The fertile soils of New South Wales' agricultural cradle are a far cry from the forensic labs of the University of Western Sydney, but for Josh Nadzielski and his wife, Fleur, they form the pastures from where their careers will now grow and thrive.

Griffith, NSW, is renowned for its agricultural bounty. Its vineyards produce some of the southern hemisphere's most sought-after wines. It is one of the Riverina's true capitals and has thrown its economic clout for more than a century. A farming heavyweight, its community is as diverse as it is passionate and resourceful and the city has a history of luring the brave and industrious. Josh and Fleur Nadzielski are no exceptions.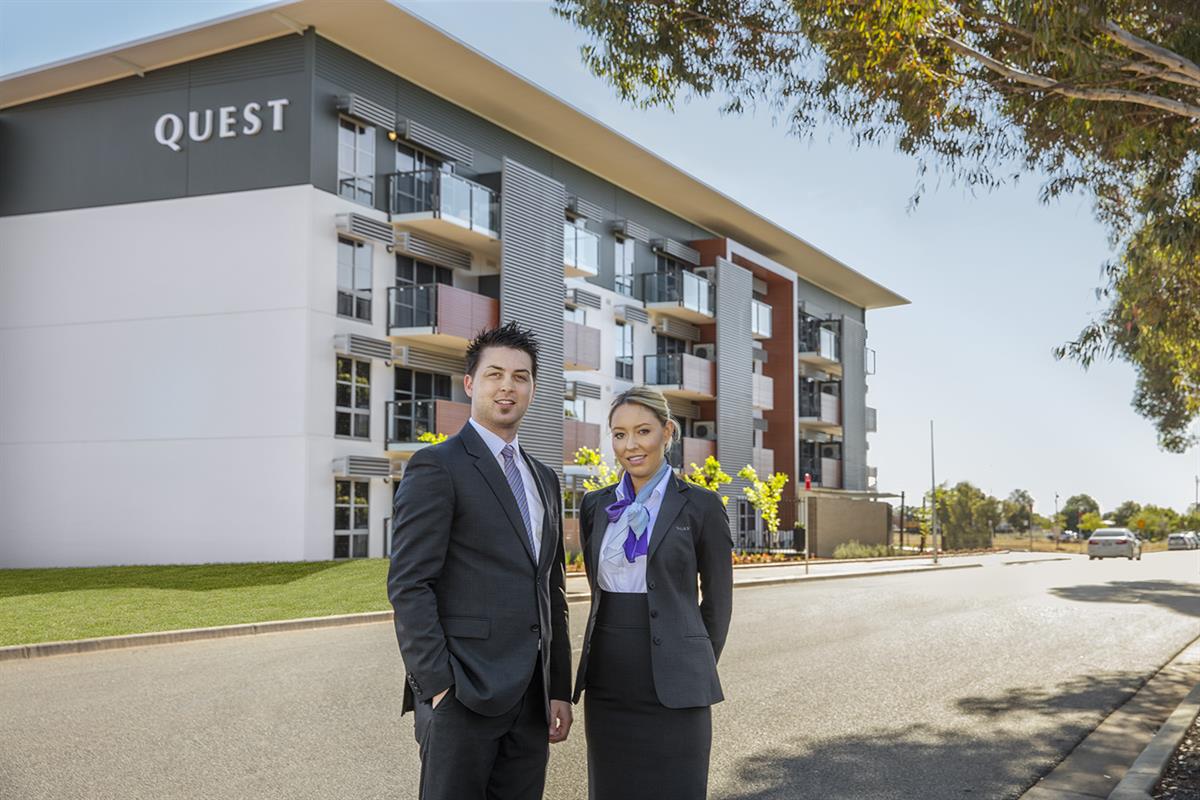 At the ages of 28 and 27 respectively, the couple chose the city as their base for their first foray into managing a Quest Apartment Hotels franchise after completing studies in forensic science (Josh) and journalism (Fleur). In less than a year since opening Quest Griffith, they haven't looked back.

"Griffith has been awesome. We're now part of an open and welcoming community. It's been so fantastic to come into an area that really welcomed both Quest and us," Josh said.
The Nadzielskis represent the spearhead of those undertaking one of the most established and successful business models in modern Australian business practice: the franchise.

Gone are the days when franchising meant a foray into fast food or dog washing. Today, a $131 billion per year opportunity lies in wait for Australian entrepreneurs and empire builders. With around 70,000 franchises operating in Australia, 90 percent of which were developed on home soil, the sector today represents one of the largest and most dynamic in the Australian economy.

Right at the heart of this industry, is Quest Apartment Hotels where franchising is the cornerstone of the group's success. Its franchise model has spurred international growth and expansion to become Australia's largest serviced apartment operator. To become a franchisee with Quest is not a matter of simply buying in.

A partnership is struck between the motivated self-starter franchisee and the franchisor. This partnership is critical to the investment: long-term tenure ofa multi-million-dollar property and the right to generate income from that property, often without needing to raise the required capital for purchase. The typical Quest franchisee in this arrangement achieves an operating profit margin of 12.5 to 20 per cent of turnover, depending on their initiative and their drive for success beyond the balance sheet.

Franchise Establishment Manager of Quest, Otti Faska, said the main reason people take on a Quest franchise is to grow their wealth and capital."It's a good model that's been around a long time, and people are investing in something proven. There is always strong support for franchisees."

But it often goes beyond that, with franchisees united in their description of the input is as robust as it is rewarding. Quest deems their franchisees as a family. They are purposely selected for their proven track record running businesses, their practical investment and, above all, their passion. Quest franchisees live in the towns and cities their property is based in, giving them a competitive connection with their customer community.

Phil Willey knows all about what it takes, having been a Quest Franchisee for over four years. Based at Quest Wollongong, Phil took on the franchise as a mid-career change transforming his corporate event sales experience into operating a leading Quest location. "You've got to be prepared to work hard and enjoy it. You don't just open up, and people start flooding in. You do the hard yards upfront and early and you keep going."

"Make sure you're comfortable with the financial commitment. You've got to have skin in the game, so you've got to make sure that you're involved in the business, too. The work itself is not difficult, but it's seven days a week, and you've got to be able to do it all and work hard. The rewards, however, are great and now I feel like I'm in control of my destiny," he said.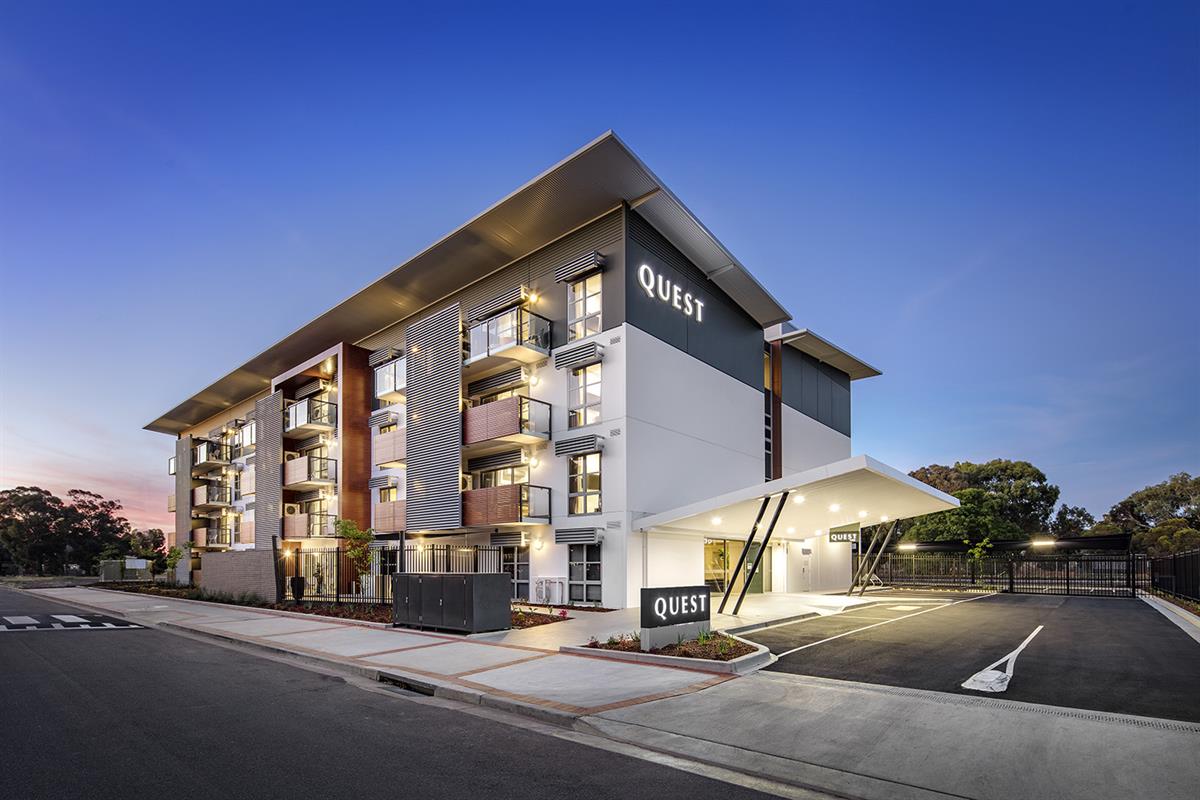 Phil's years selling and hosting corporate boxes built sustainable relationship-building skills that he believes are critical to not only beinga successful franchisee but also becoming a Quest franchisee in the first place. Since taking on Quest Wollongong, Phil has gone on to develop two joint businesses: in Nowra and Griffith. And he saw these requisite skills in Josh and Fleur who, he believes, are a wonderful example of the pathways working with Quest can open.

Josh has been with Quest for six years, starting in an entry-level role at the Campbelltown property before moving into management. It was here he learned, what he believes, is needed in a successful franchisee."What you need is passion. Listen to the advice and take onboard the support from head office but, above all, follow your dream. We love the brand, the model and how Quest works. We would love one day to pay it forward and help out other people the way Phil has helped us.

"The business model of Quest facilitates a symbiosis between all parties investing in the business; not only franchisee and franchisor, but also the landlords of the properties, developers of new properties and,of course, the travellers who choose Quest. The decision by Quest to open in new locations is involved, determined by research on everything from the economic landscape to the testimony of customers. The value of this research is clear, with today more than 160 properties located across Australia, New Zealand, and Fiji. Add to this the growth of the Quest brand and the group being the accommodation choice of over 80 percent of the top 500 companies in Australia.
Quest Apartment Hotels is also bolstered by its recent strategic partnership with The Ascott Limited and now commands access to a global network of options and up to 20 new properties coming online each year until 2020.

Determining the merit of a business you're investigating taking on can be indicated by an alignment of values at every stage, from initial interest through to your tenth anniversary and beyond. In the Quest example, the value proposition of a flexible ownership is buttressed by a strong, reputable brand that is inherent to the robustprocess to become a franchisee.
To start, an application is made either online or calling Head Office for a form. These applications are reviewed for appropriate qualification, and an initial meeting with the Quest team is set. After completing this stage of the process, an online screening of applicants determines their management skills before moving into pre-selection where interviews are conducted for deeper inquiry and background checks are conducted with references, police, financial and social media records.

Candidates are then given the opportunity to shadow another Quest franchisee and speak to no fewer than three other franchisees so they can make a dynamic evaluation of what's involved. All going well, a formal panel interview with the Quest senior management team is then conducted where the candidate puts forward their business plan and strategy for selection. If the candidate, and the group, are satisfied (and it's important both parties are on the same page in this commitment) then the application moves into approval.

Between 16 to 20 new franchisees come on board each year, with up to eight of these taking on brand new developments, with the remainder taking over existing properties."We are very stringent with our process. We find that as people go through the process, they learn a lot and feel more confident about buying into the business because they have been exposed to so much throughout the application process," Otti said.

"We look for someone who is driven, capable, has good people skills and excellent business management experience."For successful candidates, the journey only begins at approval. Quest's 30 years' experience provides the platform for dedicated franchisee support. The Quest operations team leads a passionate strategy of field support that provides franchisees with business advice and planning, financial management and monitoring as well as support in marketing, legal dealings, and refurbishment initiatives, to name just a few.

Taking over an existing location presents just as many challenges as a new property, and it's something Phil knows intimately."The first few weeks of taking over were incredibly challenging but also invaluable. A person from head office stayed with me for the first few weeks and really helped me out. When I started to fly solo, I almost could've cried, but I realised how important the support of the group is and that you're never alone."

And it's this unwavering support and comrade-in-arms attitude that drew Josh and Fleur to Phil when they made the decision to become franchisees in a joint venture."When it came to the joint venture, we were very particular about who we were going to partner with. We had the experience but needed the help of the capital, and that's where Phil has been great". Phil's philosophy regarding the business decision perfectly aligns with Quest's holistic approach incorporating business success with high standards of service.

"I think the key to a successful joint venture is to ensure that you don't micro-manage the team operating the franchise and to make sure they're happy and comfortable. To me, it isn't just results and money; it's about their lives and ensuring they enjoy them and that they're taking breaks andweekends off every so often".

For Fleur, it's this united team approach that enables her to foster an environment within her personal and professional partnerships and allows her to identify what constitutes a successful franchise."As a couple, it's beeneasy. We know how each other works and we can see our future together working and growing with the group. You have to enjoy serving the guests and being able to look out for them and make them happy. If they're happy, you're happy.

"Many of Quest's franchisee testimonials involve the age-old adage "do your homework." The first steps should include familiarising yourself with the financials of a Quest franchise, all easily found through the website. Quest also hosts Franchising Information Seminars in Australian capital cities regularly. At Quest, transparency is everything.

Successful franchisees don't need the investigative qualifications of Josh and Fleur, but they do need passion and a thirst to succeed. The genesis of opportunity is rare across the enterprise market, which makes the strength-to-strength trajectory of franchising an assured success for the right person (or people). And Quest offers all this, in spades.