With its mix of high-end restaurants, eclectic eateries, wineries, buzzing waterfront precincts, world class shopping, beaches, adrenalin adventures and culture, Auckland is as diverse as its population. Heather Wright shows us around.
Auckland
city has long been known as 'the city of sails'. Nestled between the Tasman Sea's
Manukau Harbour
and the
Pacific Ocean's Hauraki Gulf
, sparkling oceans are a backdrop to many an Auckland scene. But recent years have seen the city stepping into a more sophisticated cosmopolitan role as new mixed-use precincts appear and luxury brands including Gucci, Prada, Christian Dior and Louis Vuitton open their doors.
In the central city, modern new developments nestle alongside once neglected heritage buildings, housing a diverse mix of shopping and dining, with oases of green providing inviting spaces to stop and relax amidst the city bustle.
Almost hidden doorways provide entry to eateries of every description and nationality, with Japanese, Vietnamese, Italian, French, Mexican, New Orleans and Pacific within a stones throw of each other. Among the areas to undergo a major revamp in recent years is the
Britomart Precinct
. The 6.5-hectare waterfront precinct was once Auckland's first mercantile centre, with its history still evident today in buildings such as the Northern Steamship Company Building and the Seafarers Building, both now home to restaurants and bars. The Seafarers building, once a home for transient sailors, now houses Ostro brasserie and bar on the second floor, with multiple Michelin-starred chef Josh Emett at the helm.
The Precinct also features new builds, including the
Atrium
on Takutai shopping gallery,
The Pavilions
at Britomart – designed as an 'urban garden' – and the
Te Ara Tahuhu
walking street, which runs the length of the precinct, passing through two of the area's major shopping zones. Britomart is also a great place to check out Kiwi designers, including Kate Sylvester, Zambesi, Trellis Cooper, Juliet Hogan, Karen Walker and World.
Stroll along the waterfront a little and you'll find Auckland's most recently developed waterfront precinct, Wynyard Quarter, home to a wealth of new eateries and the
Auckland Fish Market
and its Hong Kong style live seafood restaurant, Dai Pai Pong. If you feel like some authentic Thai, head to
Thai Street
, where Thai street food, a la Bangkok, and regional cuisines are the name of the game.
Just a few minutes walk up the road; you'll find the iconic
Sky Tower
, visible across the city, and offering stunning 360-degree views from its observation deck. Inside you'll find Auckland's casino, however, if it's an adrenalin fix you're after, head up the tower itself and you'll find the SkyWalk - a narrow walkway around the top of the tower. Forget about clinging on to any handrails, not only aren't there any, but this walk tempts you to hang over the edge, 192 metres above the city. The Sky Tower is also home to
SkyJump
, where you get the chance to throw yourself off New Zealand's highest building in a wire-assisted base jump which has adrenalin junkies falling at around 85 kilometres an hour for 11 seconds.
Back on the waterfront, you'll find the Viaduct Harbour, home to more restaurants and bars - and super yachts. The home base for New Zealand's America's Cup syndicate, which in 1995 won the Cup in San Diego and brought the Louis Vuitton challenger series and the America's Cup defence to New Zealand, the Viaduct is also home to the
Voyager New Zealand Maritime Museum
, where you can explore New Zealand's rich maritime history.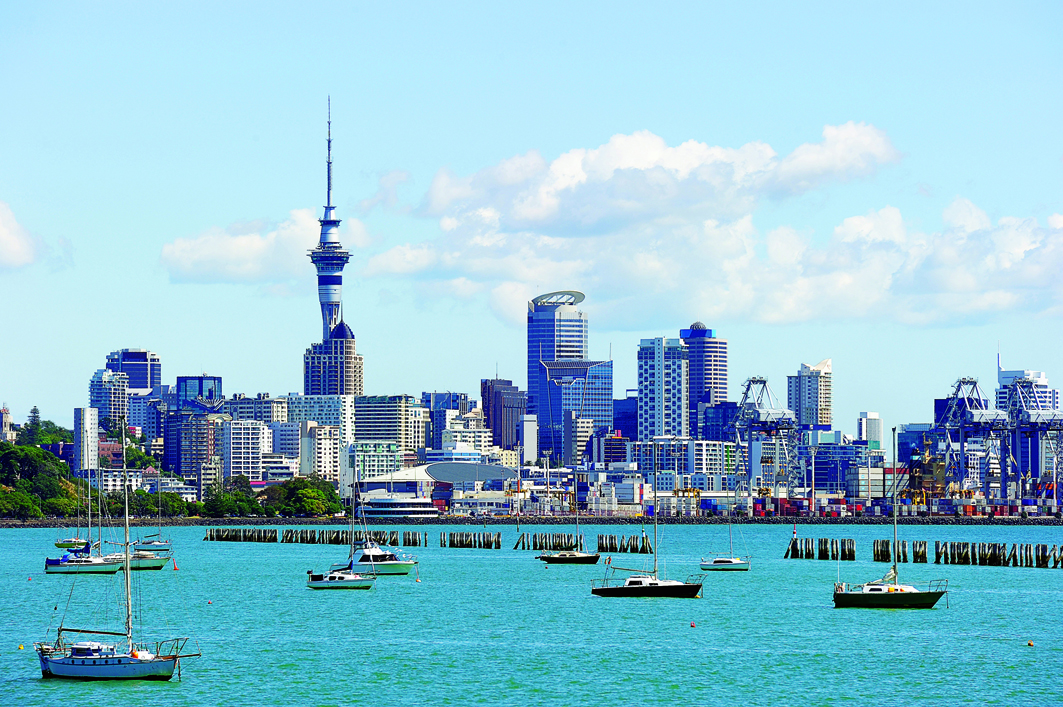 If you have time to take a break from work and want to get out on the water, jump on a ferry and head across to historic
Devonport
, one of the earliest settled areas in Auckland and featuring colonial architecture nestled by the sea. Just a 12-minute ferry ride from the city, Devonport features a vibrant arts and crafts scene with galleries and shops on the high street offering up works from local artists. Walkways take you around the waterfront and up Mount Victoria, the highest volcanic cone on Auckland's North Shore. The climb to the top is worth it with 360-degree views of Auckland, the Waitemata Harbour and Rangitoto Island.
If you have time to head further afield, a 40-minute boat ride will see you at
Waiheke Island
. Once regarded as a hippy haven, the island is now home to top wineries, olive groves and artists aplenty. Stroll the main township of Oneroa and grab a coffee while browsing local arts and crafts, or jump on a bus and head out to Onetangi and wander the white-sand beach. Onetangi is also home to
Wild on Waiheke
, where you can not only sample wines at the cellar door, but also beer at the microbrewery, and try your hand at archery and clay bird shooting among the vines.
If you're feeling more adventurous, the Island is also home to EcoZip, a flying fox dual zip line which will have you soaring above the native bush on three 200m zip lines before taking a 1.4km guided nature walk through the pre-European native forest.
Many of the island's wineries are award winners - for both their wines and their restaurants, so there's an abundance of options to choose from.
Waiheke is just one of Auckland's wine growing regions, with
Kumeu
and
Matakana
also offering up a range of wineries where you can enjoy wine tastings, food and stunning scenery.
A 50-minute drive north of downtown Auckland, Matakana offers up wineries including
Heron's Flight
, a rarity on the Kiwi vineyard scene as it specialises in growing Sangiovese and Dolcetto.
Or if you'd like to combine some art with your wine tasting, head to
Brick Bay Wines
and
Sculpture Trail
. The boutique vineyard's wines include Pinot Gris, Rose and Bordeaux-style reds, while the sculpture walk showcases around 45 works from contemporary New Zealand sculptors - and stunning New Zealand native bush.
Kumeu is Auckland's oldest wine region with wineries dating back to the 1930s, and home to some New Zealand's best-known wines, including Babich Wines, Coopers Creek, Matua and Soljans Estate Winery.
You'll also find
The Riverhead
, New Zealand's oldest riverside tavern.Within half an hour of Auckland City Centre, you'll also find about a dozen quality golf courses, including the PGA-rated
Gulf Harbour Country Club
, and Remuera Gold Club.
If it's nightlife you're after, head back into the city and you'll find
The Civic
, one of the few remaining Atmospheric Theatres in the world. Built in 1929, The Civic was the first theatre purpose built to show 'talkies'. Today, the building, with its ornate Indian-inspired motifs and twinkling sky ceiling (be sure to make a wish on the shooting stars!) hosts major touring shows, with John Cleese and Eric Idle performing in March, followed by Dawn French in early April and then Flashdance, the Musical in late April.
Adjacent to The Civic you'll also find
Aotea Centre
, which also hosts shows. And just up the main road a little further, you'll find Q Theatre, the site for arts festivals and plenty of good comedy shows.