In a world where travelling for work can mean anything from filing stories from an igloo to chairing Skype meetings from space, ever-advancing technology is keeping us connected both to the office and our loved ones more than ever before, writes Dilvin Yasa.
Long-distance relationships are never easy, but when then do you make of your partner of five years kissing you goodbye one morning before blasting off into space where he'll spend the next year stationed some 400km above the Earth's surface?
For Amika Kauderer, a public relations officer at NASA, this was her reality in 2015 when her astronaut boyfriend, Scott Kelly, a 51-year-old father-of-two, signed up for a mission to spend 340 days on
NASA's International Space Station
with the goal to understand how the human body reacts and adapts to the harsh environment of space.
It wasn't like Kauderer didn't know what she was getting into of course; Kelly – by then a 19-year space veteran – had already logged more than 520 lonely days in space on four separate missions, and held the record for most time spent in orbit by a U.S. Astronaut.
An incredible opportunity, certainly, but also quite a lonely life, Kelly admitted to reporters during his last briefing from orbit. "The hardest part is being isolated from people on the ground who are important to you," he said in what could very well be the most understated sentence ever spoken.
Kelly had been on enough lengthy missions – some as long as 159 days in orbit – to know the lack of human connection would be tough.
For his 2015 mission, he went prepared, telling reporters before catching his Russian rocket transfer (yes really) that he would spend a lot of time talking to family, friends, and followers back home via social media.
He didn't have much choice; when he appeared at the 2015 State of the Union address, then-President Barack Obama personally asked him to 'make sure to Instagram' and boy, did he deliver, posting close to 750 images from his view from the top.
There were the videos he uploaded of himself dressed in a gorilla suit chasing a fellow astronaut around (not something you see in space every day), the
#GoodnightFromSpace
photos he posted every night to his 1.1 million Instagram followers, the constant humorous updates – and space burger recipe instructions - on
Facebook
and
Twitter
, as well as regular
Reddit AMA
(Ask Me Anything) discussions, Facebook Q&A and Tweetchat – one of which President Obama (clearly a fan), jumped in unexpectedly. "Do you ever look out the window and freak out?" President Obama wanted to know. "I don't freak out about anything, Mr. President," Kelly responded. "Except getting a Twitter question from you."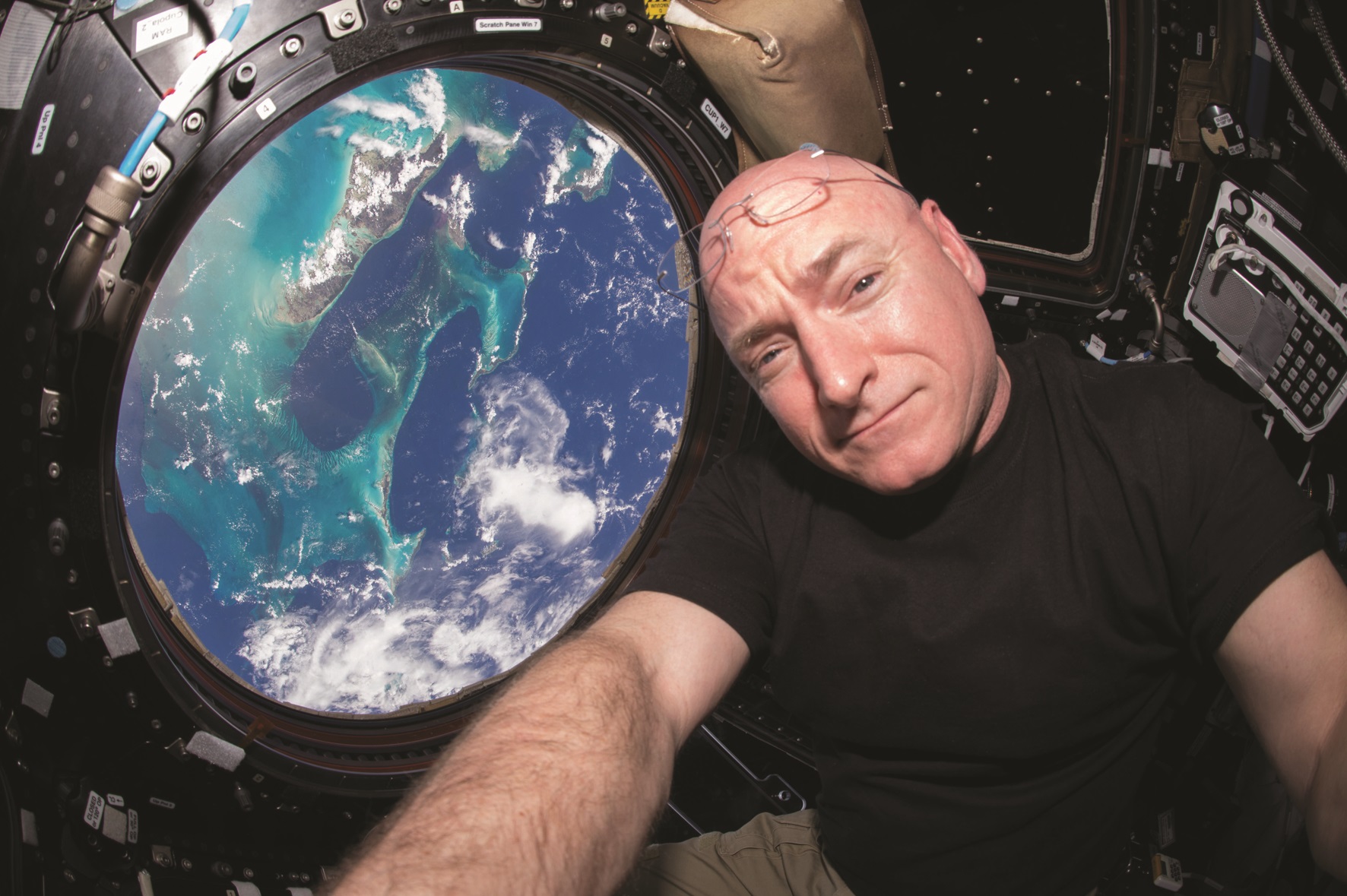 In a high-intensity situation where isolation can play havoc with thought patterns, social media training is provided to all astronauts before they leave on their missions, admitted John Yembrick, NASA's social media manager, who explained they are given an overview of all the platforms available to them and best practices discussed. In his posts, Kelly admitted the advancement of such technology saw that he benefitted from exchanges, and kept loneliness at bay while he was away, writing, "Connecting to people back on Earth on social media helps."
And it kept him connected to his ever-patient partner too, with the pair finding an inventive way of keeping in touch during the mission – by posting his and hers Instagram images with a common theme. For example, whenever Kelly posted images of the ocean far from space, Kauderer posted an image of the beach, and if Kelly posted a picture of that aforementioned space burger, Kauderer posted a photo of her pizza. The regular calls and weekly video chats helped too, but as Kauderer mentioned in an interview, "We get to connect on phone calls. We get to have our face conference. I can upload videos. But you can't upload human touch."
Of course, Kelly's case of connectivity during business travel might be one that's grossly exaggerated – after all, how many of us get called away to orbit for a year at a time, but regardless of whether you're in a different city, country, or even planet, it is a topic that's coming up time and again as businesses invest heavily in putting people in the same room, and workers spend increasingly lengthy amounts away from loved ones.
According to a 2016 Roy Morgan report, 2.1 million Australians reported flying for business purposes for their last domestic flight, and a Concur State of Business Travel 2016 paper revealed that Australian businesses spent more than $1.7 billion last year alone on airfares, hotels, transportation, dining and entertainment. It sounds inflated, but industry leaders say it's a figure that's only likely to increase as businesses push to get their personnel to collaborate face-to-face, within the same four walls. How then, can you use such technological advances to remain connected with family, friends, and co-workers back in the office?
Closer to Earth, Janine Allis is speaking a million miles an hour to Kudos as she takes an early morning taxi to the airport. She has to; she's the founder of
Boost Juice
, part-owner of Retail Zoo (the parent company of Boost Juice, Salsa's Fresh Mex Grill and Cibo Espresso), and an investor on Network 10's
Shark Tank
.
Allis is also a mother of four children aged 26, 20, 18 and an eight-year-old daughter Talia (whom Allis jokingly refers to as her 'mid-life crisis baby'), Allis is the very definition of busy. Since Boost Juice's inception in 2000, Allis has been on the road regularly, travelling both interstate and overseas – although nowhere quite as much now that most of her children are adults, she hastens to add. "It's ironic, isn't it?" she laughs. "I was on the road so much when they were little, and now that I'm around a lot more, they're older and too busy with their lives to notice!"
Back in the early 2000s, however, it was a different story. As Allis' star began to rise, and her commitments increased, so began Allis' struggle to find ways to stay connected to her family while she grew her business. "During the first few years, I was away from home for at least four months of the year, which is a lot for any family, but when you have very little ones, it's really tough," she says, explaining that she eventually happened on the idea of rotating timetables so that she would always take one of her children along on her business trips. "It was a good idea in theory, but there were definitely times when it didn't work quite as well as I'd hoped!" she laughs. "They went to meetings and conferences, and occasionally I felt guilty, but most of the time I thought, 'You know what? These kids have an amazing opportunity to listen to insightful keynote speakers at conferences other people pay lots of money to hear and what's so wrong about that'?"
Daily phone calls were made to her children back at home who remained under the care of husband Jeff, and when time permitted, the Allis family extended work trips to tack on a quick family 'reconnection' holiday. "This way the kids got to experience new countries and cultures with their mum by their side, yet I could continue to work on the business before beginning the process of reintegration," It's a process that even today, Allis says, takes up to 48 hours.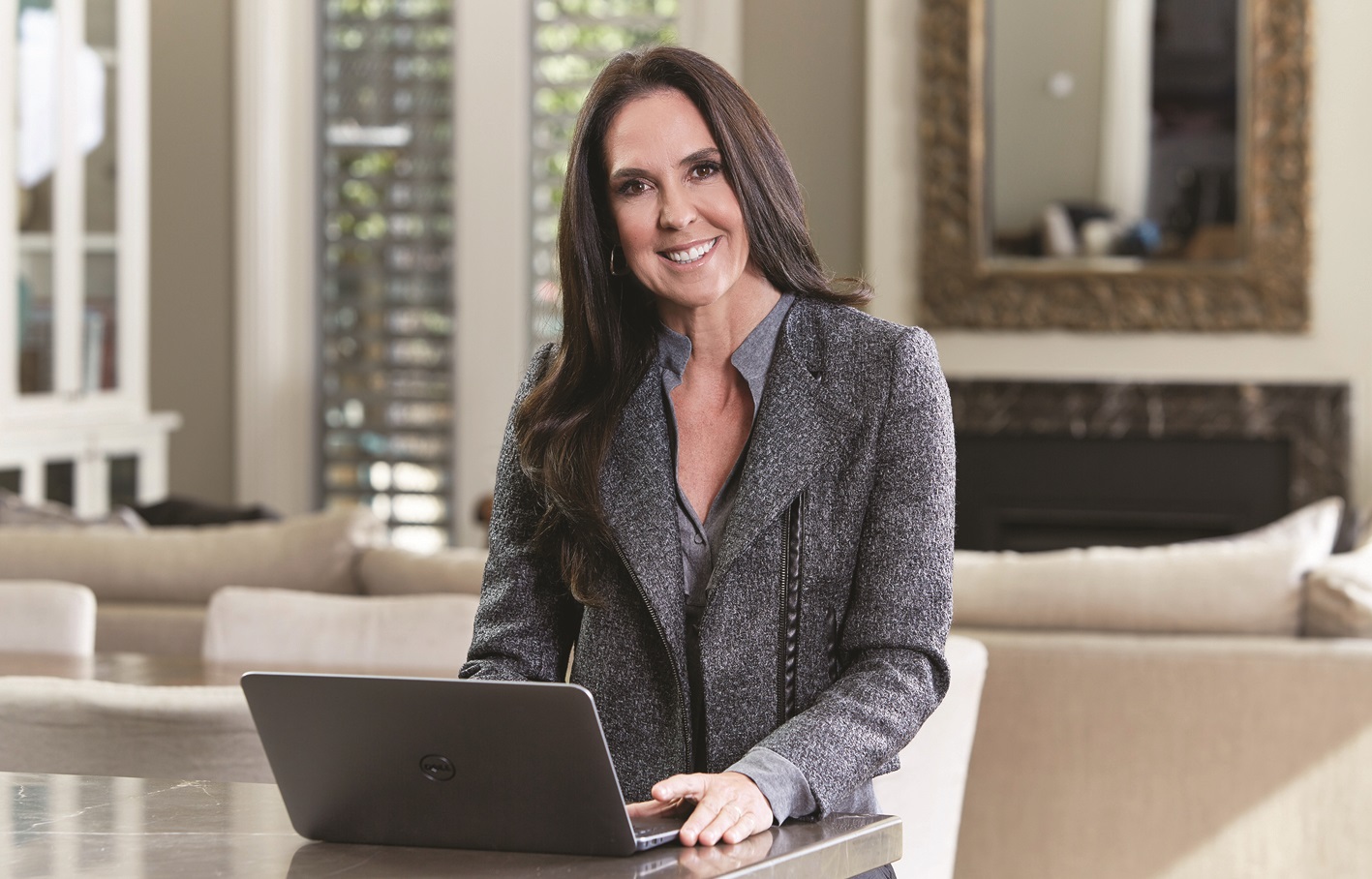 Allis is the first to admit that the work/life balance wasn't always perfect, adding that there were times she struggled to be present after a long trip away. "There was this one particular trip where everything felt out of whack," she remembers. "And when I got back, I read my children the entire series of Harry Potter which forced me to be in 'real time,' and it's a fun memory that they still talk about today!"
With age, wisdom and better technology, she says she's much better at managing the juggle today. "I'm probably away two months of the year these days, but when I am on the road, I
Skype
Talia every night to see her face," she says, joking that her teenage boys don't seem to care whether they see mum or not - even if she does force them to
Facetime
every so often. "And I'm always taking Talia out of school to come on trips with me because education comes in many different forms – whether it's studying maths in the classroom, or hearing industry leaders at the top of their game share inspiring stories."
It's clear Allis takes connection with family seriously, but she's a little more hands-off when it comes to keeping in contact with the office during her travels. "I'm a firm believer that a great business model is one which runs well even when you're not there, and this often comes down to staffing," she says. "If you need to be available to answer emails and answer phone calls around the clock while you're away, I would recommend taking a long, hard look at whether you have the right people for the job working for you,"
she says.
One person who definitely has the right person for the job is sports and exercise medicine physician, Dr. Peter Braun, whose wife Amanda works as the practice manager in his
Peak Sports Medicine
clinic in Melbourne's Docklands.
Amanda had previously enjoyed a career as a chartered accountant, but Dr. Braun says that when one party has a job which sees them endlessly on the road, something has to give. "We came to this decision many years ago because we realised that lifestyle and family happiness is more important than money," he says. "And with Amanda running both the household and working in the business part-time, we stay connected on both home and work fronts and that way, nobody has to suffer."
Dr. Braun knows a thing or two about spending long periods on the road. To his patients, he might be the man to go to get back to your sport quickly after an injury, but as Medical Director of
Olympic Winter Institute of Australia
, he's also the man responsible for looking after our country's most elite athletes. Dr. Braun has spent the past 19 years travelling with the Olympic team as they compete in icy conditions around the world. It's not just the lengthy Winter Olympics events themselves that keep him overseas, but the associated planning visits, test events and infrastructure tours, each of which can keep him overseas for anywhere between one to two weeks at a time.
With such a hectic schedule, planning is everything, admits Dr. Braun, who adds that the process can start weeks or even months in advance. "If we're talking about the Winter Olympics, we'll start planning a year and a half before the event on which drugs we'll be taking and comb through the events schedule to see which doctor will be needed where," he says. "But for other trips, planning meetings, logistics and tours will take a couple of weeks."
Not that everything can be planned, as Dr. Braun discovered back in 1998 when his wife went into labour with their first-born three weeks early. "It's the loneliest I've ever felt," he admits of the moment he got the call as he was flying back from the Nagano games. "We knew we'd taken a chance on me going, but nothing prepares you for the anguish of being stuck on a plane while your wife is welcoming your baby into the world far away from you."
Whether it's because his son has never let him live it down ("He likes to remind me every four years once the preparations start buzzing," Dr. Braun laughs), or because technology has advanced so much since the late 90s when he began his role, but Dr. Braun insists staying in touch with both his practice, as well as with his wife and two children is essential. "No matter where I am or what I'm doing, I always try to make time twice a day to connect with my family and the office," he says, adding that the process is so much easier now that he doesn't have to set up a laptop and camera in his hotel room and spend valuable time dealing with staff to get a connection. "These days, I only ever carry my mobile phone, a spare battery charger, and a dongle because I don't like using the hotel Wi-Fi as they're such a security risk for someone in my position," he says. "I pick one up at the airport before I fly and return it when I come back, and with these three items, I'm always good for up to 18 hours at a time – no matter where I am in the world," he adds, explaining that he often communicates with his family via text,
Whatsapp
and
Skype
, and with his office via email. "I've got remote access to my medical practice software, so I can check emails throughout the day and respond to patients whenever I have a spare moment which is important in my line of work."
Just as important, Dr. Braun says, is learning how to debrief so that you're not still 'on' when you walk in through your front door. "When I'm on the road – and I suspect this is true of most business travellers – it's just go, go, go so you have to take care of yourself and be mindful you're not bringing back any work-related baggage with you into the family home," he says.
To that end, he says he spends his flight home writing his reports and finalising feedback for future planning so that he arrives back to his wife and children with nothing but time. "After each trip, I'll take a couple of days off just to take walks with my wife, go out with my kids or meet friends for dinner," he says. "After weeks on the road, all I want in the end is to get back into the rhythm of ordinary life."
That he touches on seeking an ordinary life is important, because increasingly, workplace technology can also help you live a life far away from the ordinary and its conventions (and desks, walls, co-workers, etc.), and that's exactly what 34-year-old travel writer Celeste Gill – nee Mitchell banks on.
In the past year alone, Gill has enjoyed the kind of 'remote business centres' many of us can only dream of – chalets in
Swiss mountaintops
, ancient underground cities in
Jordan
and overwater bungalows in the
Maldives
, and as she speaks with Kudos, she's madly packing for her next trip away – a 10-day cruise around
Alaska
.
"There are certainly worse ways to earn a living," she laughs when we ask when she plans to retire so that we may take her position. "But often people think travel writing is only what you see on Instagram, but to go on any of these trips – which can sometimes be up to two weeks long – I have to work overtime to file stories to meet my weekly deadline commitments, and while I'm travelling, I'm often up late at night, downloading, uploading, writing and chatting to editors to keep up with my workload." Wherever in the world she sets down her luggage, Gill says she has only one wish: "I just hope I have decent Wi-Fi and that the mobile reception is kind to me."
Gill is the first to admit that it's the advancement of technology that allows her to do the job that she does. She says it's her reliance on the future of technology that inspired her to leave her publishing job in
Sydney
to pursue a freelance career on the
Sunshine Coast
– a surprising move considering it's far from the tentacles of editors, PRs and tourism operators and their regular requests for coffee dates, meetings and event attendances. "I guess if you look at it with a black and white perspective, it might have looked like career suicide initially, but I could see which way the future was unfolding in terms of working remotely and I was up for the challenge of remaining as contactable as though I was only ever a couple of streets away."
To that end, Gill says she's a big fan of monthly Skype meetings so that editors and clients can see her face while they speak, and she ensures she makes the 1.5-hour drive to
Brisbane
once or twice a month and takes a flight to Sydney every six months to see people in person. "I always line up meetings, events, coffees and turn up in people's offices so that I'm never seen as some faceless person on email," she says, admitting this approach might have helped push her along on the road to the success.
What possibly also helps, Gill says, is that she's never uncontactable – not even while navigating her way around icebergs in the
Arctic Circle
. "Several times a day, I'm checking emails, or if a matter is urgent, answering calls and texts, but the tool I find most useful when I'm travelling for work is turning on the good old 'out of office' on my email," she says. "It helps manage people's expectations and buys me enough time to get back to them without upsetting anyone – lifesaver!"
It's when it comes to her new husband Zac that things become a little trickier, Gill admits. "He travels quite a bit for work as well so we know that unless we're strict with maintaining the connection, we could be at risk of becoming ships in the night," she says.
When they're apart, they exchange text messages daily, and - depending on where Gill is and what kind of coverage she has - the pair will speak every second day. They also often try to coordinate their schedules so that they're away at the same time. "Zac has more control over his itinerary than I do, but we've had occasions where we've been able to meet up in
Rome
for a day and another where our travel schedules overlapped in
San Francisco
and that was amazing," she says, adding that soon, this part of their lives may not be a problem for much longer. "We're actually about to base ourselves in
South America
followed by
Europe
for the next six months and what we'll do or where we'll go from there, who knows?" she says. "And that's the thing about technology – as long as I have a laptop and working mobile phone, I can work from anywhere in the world and still be completely contactable – what could be better than that?"
THE BUSINESS LEADER SAYS:
When you've got the kind of job that keeps you on the road, the ability to seamlessly interact with those back in the office is key to keeping motivation and camaraderie high, says Kylie Wright-Ford, Global C-Suite executive, entrepreneur, and author of
The Leadership Mind Switch
.
"Gone are the days when, 'I'm travelling' was a valid excuse not to send a quick text or email with updates and encouragement or collaboration on shared projects," she says, adding that for herself personally, being out of the office is a time when she does most of her creative thinking. "Why wouldn't I want to share it?" she says.
Of the challenges regular business travellers face, Wright-Ford outlines missing out on moments of 'spontaneous collision' in the halls or by the coffee machine as a biggie.
"These environments are often where ideas are shared or moments are created, and these are often missed when you're always on the road," she says. "That said, I'm an optimist and believe a quick selfie at a client office, a text sharing a success or failure, or an update on what you learned on the road can go a long way."
To stay in tune with what's happening in the office, Wright-Ford recommends setting a culture of connectivity long before you leave to travel. "This means using collaboration tools like slack or Skype regularly both in and out of the office until it becomes a habit," she says. "It's also imperative you never let work travel become a 'thing' where when someone travels, they are effectively off limits because that will grind everything to a halt." Staying in touch with the office while you travel shows a strong ethic and commitment to the team, she adds, and to this, culture is key.
THE PSYCHOLOGIST SAYS:
No matter whether you're away for a few days, or a few weeks at a time, keeping in touch with loved ones while you're away is essential to keep your presence in each other's lives, says clinical psychologist, Dr. Lissa Johnson of Lissa Johnson & Associates. "Staying in touch allows you to continue sharing your day-to-day experiences with one another, communicates that you care, eases the pain of separation, and enables you to remain available and responsive to each other's needs, reducing the emotional if not the physical distance between you," she says.
There are several emotional risks to being away from home regularly, or for extended periods of time, says Dr. Johnson – particularly if you are prone to emotional avoidance. "One risk is that you use travel to keep loved ones at an arm's length and perpetually sweep emotional issues under the carpet," she says, explaining that as time goes on, this behaviour can foster a drift into separate emotional worlds in which you become increasingly distant from one another. "Another risk is that is that you or your loved ones begin inadvertently dialling down the intensity of your feelings for each other as a coping strategy to reduce the pain of separation."
Rounding off the list of risk within this arena is the feeling that you start to lose your role at home, finding it increasingly difficult to slot back in when you return ("This can lead to feeling redundant or out of place over time," says Dr. Johnson); you might grow increasingly accustomed to doing things your way, finding it a constant challenge to accommodate the wants and needs of your family once you get back; and finally, a lack of physical affection can also become problematic.
If you're finding the strain of constant travel is impacting negatively on your relationships, Dr. Johnson offers the following tips:
While travelling, work to build bridges between your two worlds by speaking about what's ahead for you both during the trip. "It means saying things like, 'I'll be thinking of you when you give that speech', 'I'll take a photo of the sunset and send it to you' and 'What will you guys be doing this weekend?'," says Dr. Johnson, who adds that peppering the conversation with lots of questions about what your partner is doing and what they have planned lets them know you're still holding them in your mind.
Regularly check in on feelings, and ask your loved ones what they need from you. "It could be something as simple as 'How do you feel about managing that on your own?' or 'Is there anything I can do to make things easier before I go?", she says.
Always be sure to let them know how you're feeling as well, telling them you'll miss them, love them or that you wish they could be with you.
Thinking about making that trip to China something a little more permanent? Save the big news for when you're face-to-face, recommends Johnson who says you should always try to avoid dropping emotional bombshells before you leave or while you're away. "Stressful news, big decisions and major arguments can wait until you're back," she says.
Finally, draw on your knowledge of your loved ones to guide you on how to stay connected with them. "Ask yourself what will help them feel connected to you and what will ease the pain of separation for them," says Dr. Johnson, who adds that the rest all comes down to being sensitive to their needs.