Whether you're on a fly in work trip or have a few extra days to explore, Lee Mylne uncovers the beauty and buzzing diversity of Darwin.
Darwin's reputation as Australia's "last frontier" is in danger of disappearing, as new developments and new attractions have transformed the
Northern Territory
capital in recent years.
For anyone who hasn't
visited Darwin
for a few years, there's even more to see and do than ever before. In fact, for some, the city may be almost unrecognisable, particularly around the waterfront area near
Stokes Wharf
. The most dramatic new feature is a large wave pool that dominates the landscape fronting the
Arafura Sea
, solving the problem of where to swim in croc-free waters when the city starts to heat up.
The lagoon and wave pool is just one element of the waterfront, which also includes a new shopping precinct, high-rise apartment blocks, hotels and restaurants, all linked to the city centre by a covered, elevated walkway through a corridor of bushland and close to the
Darwin Convention Centre
.
After work activities
Enjoying one of Darwin's famous sunsets after a hard day of business meetings is one of the best ways to wind down in this tropical city. Sunset cruises operate on
Darwin Harbour
every night, with a choice of a restored pearling lugger or a sailing schooner to get out on the water. Cruises leave from
Cullen Bay Marina
and usually last around two to three hours, with drinks and nibbles or a full dinner cruise to choose.
To get a real feel for Darwin's vibe, head to some of the popular markets. On Thursdays and Sundays from April to October, everyone flocks to the
Mindil Beach Sunset Market
, where cheap eats from sixty food stalls offer a tempting array, along with live music, street performers, around 200 arts-and-crafts stalls and more – all topped off with a stunning Top End sunset.
For something really different, head to the
Deckchair Cinema
, where you can lie back in a canvas deck chair under the stars to watch Australian and foreign films. Located on the edge of Darwin Harbour (at the end of Jervois Road, opposite Parliament House), the cinema is run by the Darwin Film Society. A kiosk sells wine, beer, soft drinks and snacks, and there's a hot buffet every night. There are 250 deck chairs as well as about 100 straight-backed seats, and a limited supply of cushions. Movies start at 7.30pm daily (April to November).
If you fancy a flutter, the gaming tables at
Skycity Darwin Casino
are in play almost around the clock.
Wining and dining
Cullen Bay Marina is packed with good restaurants and cafes. Try
Buzz Cafe
or
Seafood on Cullen
(all you can eat), and you'll also find Greek, Thai, Japanese and more. Other great dining spots include the stylish Monsoons, Parap's Saffron Indian restaurant (which charges back to
Quest Parap
) and Hanuman for fusion cuisine.
The coolest cafe in town - for breakfast and lunch only - is
The Roma Bar
on Cavenagh Street (near Quest Darwin), where media types rub shoulders with politicians, lobbyists, musicians and artists.
On Saturday mornings, head to the suburban
Parap Markets
, which transform one small street into a slice of Asia. Just a 100-metre walk from
Quest Parap
and about 4km from the CBD, this is a great place for breakfast or brunch and is a favourite with the locals.
Leisure time
As any reader of Darwin's local newspapers will know, crocodiles are always big news in the
Northern Territory
. Crocosaurus Cove will teach you everything you need to know about these fearsome creatures. Chopper, a 790kg specimen with no front feet, is one of several huge crocs that have survived into their eighth or ninth decade and now call Crocosaurus Cove home. Really test your mettle by climbing into a perspex "Cage of Death" and being lowered into their enclosure. These territorial monsters aren't usually happy with the intrusion, as the scratch marks on the 145mm thick walls of the cage attest.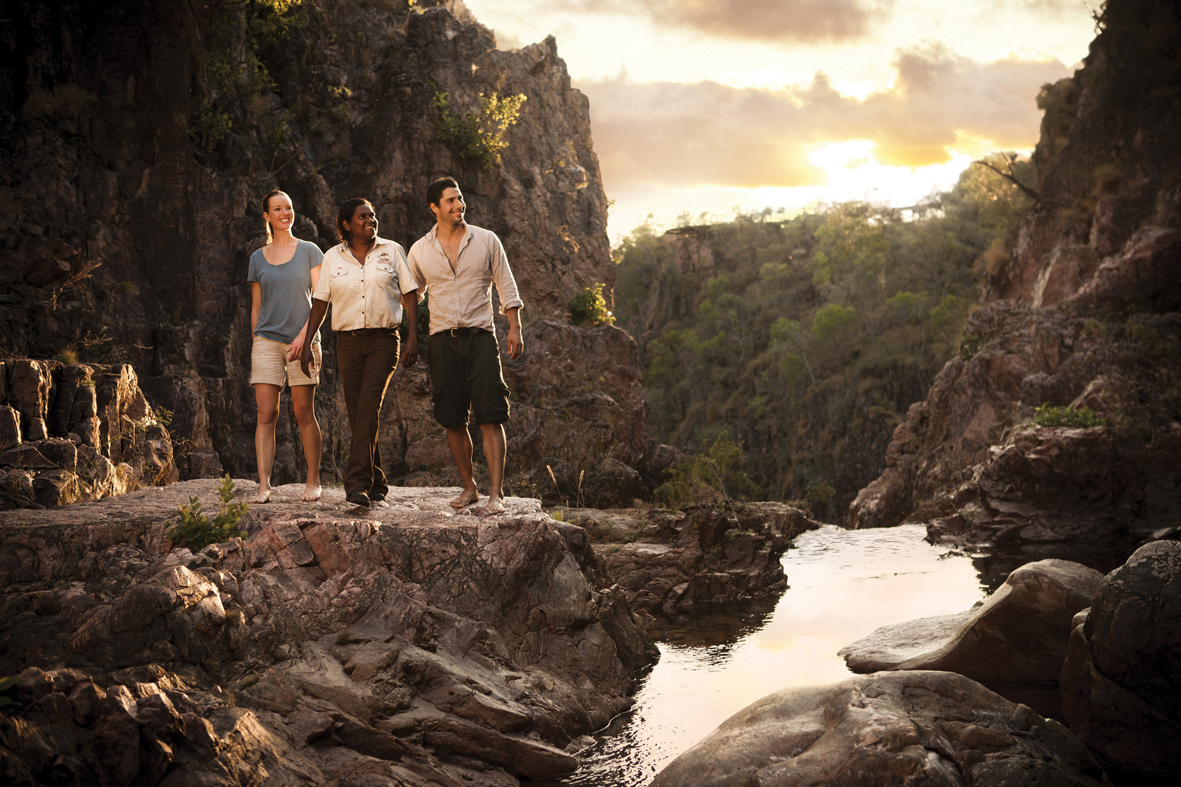 Less terrifying is the chance to swim in a pool next door to juvenile crocs, with just a Perspex wall between you. Crocosaurus Cove also has Australia's largest collection of reptiles, about seventy species, all from the Top End.
Darwin's chequered history has included a front-line role in World War II and the devastation of Cyclone Tracy in 1974 – events which sealed its place in Australia's modern history. You can find about this and more at the fascinating
Museum and Art Gallery of the Northern Territory
at Bullocky Point. A highlight is the Cyclone Tracy gallery, where you can stand in a small, dark room as the sound of the cyclone rages around you. Croc fans won't be disappointed here either – a major attraction at the museum is the preserved body of Sweetheart, a five-metre man-eating "saltie" captured in Kakadu National Park. And if you're hungry yourself, pop into the Cornucopia Cafe, which has great views.
The
East Point Military Museum
, housed in a World War II gun command post, plays a video of the 1942- 43 Japanese bombings of Darwin and has displays of memorabilia, artillery, armored vehicles and weapons.
Another great place to see wildlife is the
Territory Wildlife Park
, just south of Darwin at Berry Springs. The park's Oolloo Sandbar is an interactive experience of a typical Top End river, where visitors learn about the importance of this habitat to animals, and is home to whip rays, turtles, archerfish and barramundi, with feeding times throughout the day.
For guests at
Quest Palmerston
, on the southern side of the city, it's only 90km to
Litchfield National Park
, with its stunning waterfalls and spring-fed swimming holes. There are also a number of short walking trails in the park.
If fishing is on your agenda, Darwin is just the place to throw a line in. Lots of charter boats run trips in the river and wetland systems around Darwin and in
Kakadu National Park
.