There's no doubt that Queensland's economic powerhouses of Gladstone, Rockhampton, Mackay and Townsville have set the backdrop to countless business deals, but stay a bit longer and dig a bit deeper and you'll realise there's even more gleam to the 'golden triangle', as Carly Lubicz discovers.

While the mining boom of a lifetime (or several lifetimes) has certainly slowed;
Central
and
North Queensland
cafés and restaurants are still teeming with business associates uniting over lunches, dinners and handshakes.
"We've moved from a period of unsustainable growth to sustainable growth," says
Mackay
Tourism general manager Stephen Schwer. "It's no longer the heady high of a gold rush where people are throwing money left, right and centre; but the region is still booming in a much more sustainable way."
These major economic hubs are now also transforming into lifestyle destinations as they continue to capitalise on visitor numbers and diversify their economies; but the key is knowing where to go beyond the airport and job site.
Gladstone
As well as being home to the largest aluminium smelter in the southern hemisphere, the biggest cement plant in Australia and
Queensland's
largest multi-commodity port; the multi-billion-dollar-generating industrial town of
Gladstone
also ranks high for fishing enthusiasts. With one of the largest boat ownerships per capita in the country, there are plenty of spots for visitors to explore.
Fishing charters trip out to the reef, but - closer to home - barra hunters will particularly appreciate Lake Awoonga.
Just 30km from Gladstone, it's the region's main water supply and renowned for its barramundi fishing; particularly with ex-pro fisherman turned tour guide Johnny Mitchell. Never fear; non-fisher folk still have plenty to do: hire a kayak or houseboat, take a scenic walk or even climb aboard a seaplane.
Back in town, kickback and enjoy the latest flick at regional Queensland's only Gold Room cinema (did someone say reclining seats and a licensed bar; or head out for dinner to
Scottie's Restaurant
(on Goondoon Street), which is known for its mouth-watering steak and oysters.
Looking for some education? Free industry tours run on different days covering key wealth-drivers like the
NRG Power Station
,
Gladstone Port
,
Queensland Alumina Ltd
and
Boyne Smelters Ltd
. They're conducted by long-term residents with industry backgrounds, so you'll get all the inside intel and history.
There are also tours around the city and out to the Tondoon Botanic Gardens (stop off at the Gecko Valley Winery and Rose Garden Cafe nearby), and a two-hour Harbour Coffee Cruise with a commentary and morning tea (about $25).
If you're happy to travel a bit further afield (1.5 hours south), you'll discover the pretty coastal town of Agnes Water - one of Australia's 101 best beaches and Queensland's most northerly surf spot.
Agnes and nearby Town of 1770 are great for adventure activities... if you're game. Jump aboard a LARC (giant pink amphibious vehicle) for a sand boarding safari; get acquainted with your 'inner bikie' on a chopper motorbike; discover rainforest mud on a quad bike; and watch the sunset while kayaking the calm waters of Bustard Bay. You'll be going back to work for a rest!
Rockhampton
Home to the Central Queensland Livestock Exchange and two of the country's largest abattoirs,
Rockhampton
is the undisputed Beef Capital of Australia. And when there's beef there's steak. Not just any old steak either: cuts from prime grain and grass-fed cattle grown on some of Australia's best grazing land.
The Edge Restaurant & Bar
, fronting the banks of the Fitzroy River on Victoria Parade, is well worth a visit for breakfast, lunch, dinner, fine wine and cocktails.
Also try nearby
Bistro 98
that specialises in "sizzling steaks and succulent seafood", or, for caffeine with your prime cuts, try the
Coffee House
, which is home to one of the best cups in town. But for those who want a steak with a difference; pop into Koorana Crocodile Farm. You'll also find croc pies, kebabs and ribs in the restaurant of Queensland's first commercial crocodile farm.
Foodies will also love the Capricorn Coast Markets on Saturdays where you can find delicious seasonal fruit. Or - for seafood lovers - head to Rosslyn Bay, in Yeppoon, about 38km northeast of Rockhampton. Here you will discover the
Rosslyn Bay Fishermans' Market
, which is open seven days a week and has freshly-caught offerings of local fish, prawns, bugs, scallops and mud crabs.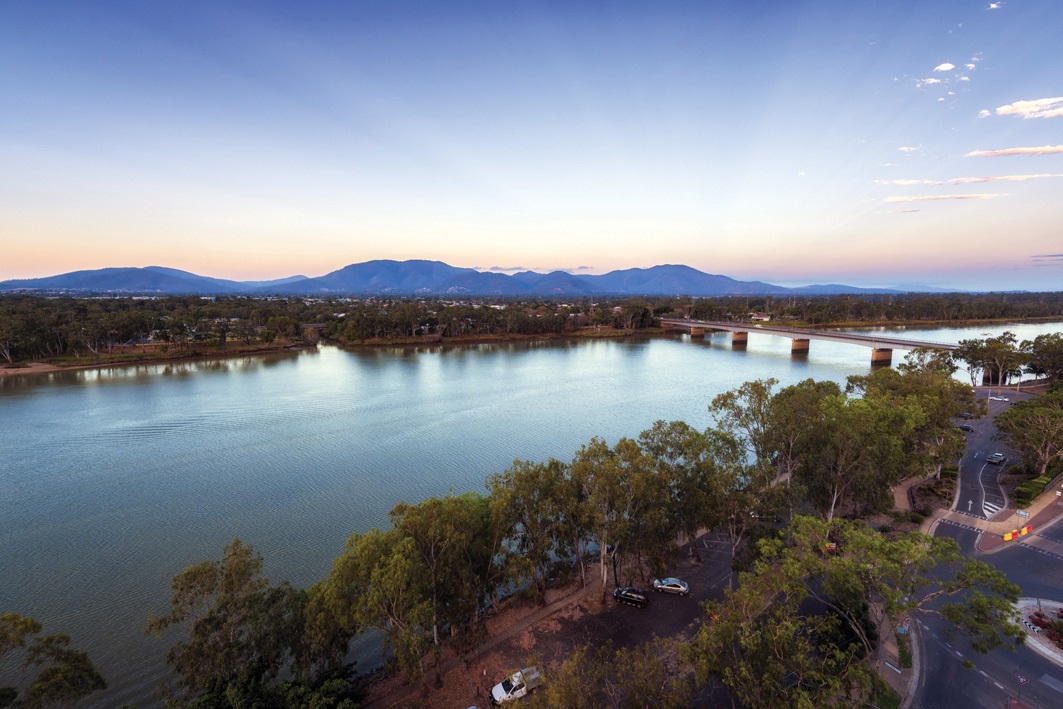 Yeppoon's esplanade is also worth a visit - it's the vibrant main stretch and home to boutiques, restaurants and cafés. While you're just north of the city, the
Capricorn Caves
is worth checking out. This amazing system of above-ground caves can be explored in one or two-hour walking tours, or through three hours of adventure caving which will have you weaving through tunnels and shafts and squeezing through a 30cm diameter hole (maybe!).
If you're chasing a more relaxing activity closer to town, take a stroll around Rockhampton's Botanic Gardens. They are heritage-listed and regarded as one of the best in regional Australia and host excellent specimens of palms, cycads and ferns within the beautifully manicured grounds. There are guided tours Monday to Friday at 10am and 2pm and kids will love the on-site zoo, which is free and has more than 50 species of native and exotic animals.
Mackay
Known as the service centre of Queensland's rich resource basins and an epicentre for the country's sugar cane production, one of the biggest mistakes
Mackay
visitors make is not detouring from the well-worn path of airport to mine site. At the very least, explore the main eat street of Mackay - Wood Street - where you'll stumble across top-notch restaurant Burp Eat Drink (or simply 'Burp'), which is known for its tasty fare, friendly service and delicious coffee. Or try Unwind - a cafe-restaurant that displays its modern Australian-style menu on retro album covers.
Out of the CBD,
Maria's Donkey Tapas Bar
is also a popular choice. This earthy Spanish-style establishment is on the banks of the Pioneer River and hosts live music every Friday and Saturday night. Plus
Mojos
is a must for cocktail lovers - sip your favourite mix in this roof top open-air bar while drinking-in the tranquil water views.
Those with a bit more time and a greater inclination for the outdoors will enjoy a trip to
Keswick Island
. Just off the coast of Mackay, Keswick has been accessible by plane for years, but now day trippers can reach the national park-clad island and surrounding reef via boat every Saturday. In just 45 minutes on the water or 12 minutes in the air you're in pristine snorkelling and diving territory. Not to mention the migratory whales in September.
The Egremont Passage, just off Keswick Island, is a common haunt for breaching whales as they head south with their calves.
If you'd prefer to stay dry, hop in the car for a scenic one-hour drive to Eungella National Park. You'll love the clear mountain air at the Eungella Chalet. From here you can do the Mackay Highlands Great Walk, or just take advantage of the on-site restaurant and bar and admire the Pioneer Valley views from the comfort of the glass-enclosed outdoor eating area.
Locals love Finch Hatten Gorge, also in Eungella National Park; a popular fresh-water swimming hole surrounded by pristine rock pools and waterfalls. Forest Flying's rainforest zip line is also at the gorge, which runs 30m above the rainforest floor. You can control your own speed, which means you can actually stop on the line, calm your heart rate, and inhale the rainforest serenity.
Townsville
Known as Queensland's second capital with a strong multi-pillared economy and a population of 200,000,
Townsville
is also dubbed the events capital of North Queensland. From June to September the tropical city comes alive with everything from the V8s (July) and Townsville Triathlon Festival (September 21-22) to the
Festival of Chamber Music
(July-August) and
Winter Racing Carnival
dominating the social scene. But regardless of when you visit, there is plenty to do in this tropical city.
A walk to The Strand is an absolute must.
Townsville's
waterfront esplanade is always abuzz with dog walkers, runners, kids on scooters and - on the weekends - in-coming skydivers. While you're there, wander onto the deck at
Longboard Bar and Grill
for sundowners - this relaxed bar at the end of boutique-peppered Gregory Street is perfect for post-meeting cocktails and tasty buffalo wings.
Or sweet tooths can cross the road to
Juliette's
- this iconic café has the best gelato in town (think Ferrero Rocher, pistachio and classic vanilla), plus a host of homemade sweet treats like Raffaello cheesecake, apple crumble and countless gourmet biscuits and slices (another lap of The Strand?).
Speaking of food, don't miss
Townsville's Palmer Street
- the premier eat-strip in town harbours a host of award-winning restaurants like
Michels
and
JAM Corner
, plus decent watering holes like
The Australian
and
Metropole Hote
l, and the newly-opened chic
Crown on Palmer
.
But a trip to Townsville wouldn't be complete without a trek up its landmark -
Castle Hill
. This pink granite monolith that dominates the landscape is just a few metres shy of a mountain and, whether you choose to walk one of its many tracks or drive up the road, the view from the top out to
Magnetic Island
and
Cleveland Bay
will not disappoint.
Magnetic Island (or simply 'Maggie') is another absolute must. This laid-back tropical island is just 20 minutes away via ferry (a bit longer if you take the car barge) and has a host of accommodation options to suit every budget.
Pop over there for a day trip with a colleague (nothing like a pub lunch at the Marlin Bar on Horseshoe Bay and a stroll along the beach to get those creative juices flowing!), or stay on for the weekend or week with the family in a beach house.
So the next time you're in Queensland's north for a quick visit, there's now no excuse for staying in your room; as comfy as it may be. Get out there and discover a new richness to this region.