Quest have a raft of historic properties within the network, adding extra flair and heritage to a guest's experience. Discover the allure of the old.

The Quest Grand Hotel Melbourne may be one of the newest additions to the Quest family, but it is also one of the most historic. Many guests expect Quest properties to be fancy new-builds, but there are many properties within the group that offer not only high-tech comforts but also histories that date back a century or more. It can be comforting in an unfamiliar space to be able to discover a physical link between the past and the future –a building with a story to tell.

"I cannot look at modern buildings without thinking of historical ones," British designer and TV presenter Kevin McCloud saidrecently. That is very much the case with Quest Grand Hotel Melbourne. Today's Quest Grand Hotel Melbourne is a classic boutique apartment hotel that franchisee Denis Croke says is perfect for "lovers of culture, tradition and bespoke experiences."
Built in the early 1890s to serve as the headquarters for the Victoria Railway Administration Offices, it was constructed in an era defined by Victorian elegance and grandeur. It is protected by the Heritage Council of Victoria and now beautifully restored. At a prestigious location in the CBD, beyond a regal façade, the hotel is one of Melbourne's rare surviving architectural gems, and it dates back to the gold rush era in both its design and decor.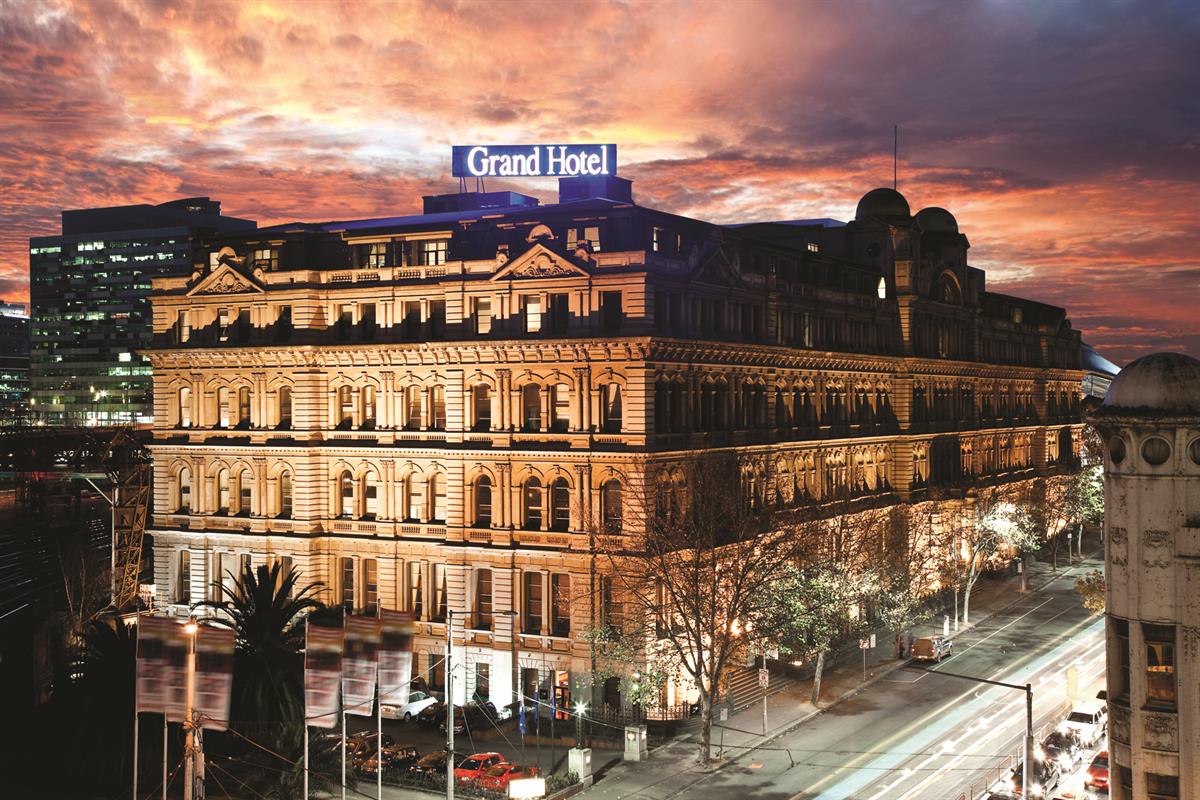 Situated between Flinders and Collins Streets, two of Melbourne's best-known thoroughfares, its quirky features include the Hidden Garden -a tiny gem at the back of the building, on the way to the indoor swimming pool. Croke has described the Grand as "a union of Victorian charm and contemporary sophistication; stylish and refined." Just like Miss Fisher. There is, for instance, a graceful library with chessboards and the RAB Bar & Restaurant, with its fine china. For over a century, this exclusive setting has hosted royalty, foreign dignitaries, heads of Melbourne industry, and famous athletes, entertainers, and artists.

Although the land was once owned by Melbourne pioneer John Batman, the building was constructed after the railway commissioners decided that their existing wooden offices were insufficient. William Henry Greene was commissioned to prepare plans, and his initial 1886 design was as follows: "The building is to be brick faced with stucco. The style of architecture is to be Italian and, as our engraving shows, the structure will have a substantial and imposing appearance.

"Between 1887 and 1891 a total of 160,000 pounds was spent on construction before the completion of the building in 1891. A third floor was added in 1912 and a fourth in 1958. The Grand Hotel Melbourne opened in the mid-1990s. Mezzanine floors were added into all of the converted offices giving a feel of loft-style living with modern technology and comfort. Level six of the hotel houses most of the studio suites, with wrap-around, terrace-style balconies enjoying views over Melbourne city, the Yarra River and west over the Docklands development.


The bell tower of Toowoomba
One of the most striking Quest buildings is Quest Toowoomba in Queensland –where the original facade and bell tower of an old church have been retained. The apartment tower re-purposed the city's former Church of Christ building, constructed in 1903. The bell tower and facade of the original building have been converted into the apartment lobby, with large marble-look tiles fixed to the walls, while brickwork, windows, flooring, ceiling and architectural trims were restored. FKG Group development consultant, Darryl Green, who oversaw the project, said builders studied heritage reports before determining which parts of the original building should be retained and how the new apartments could be incorporated.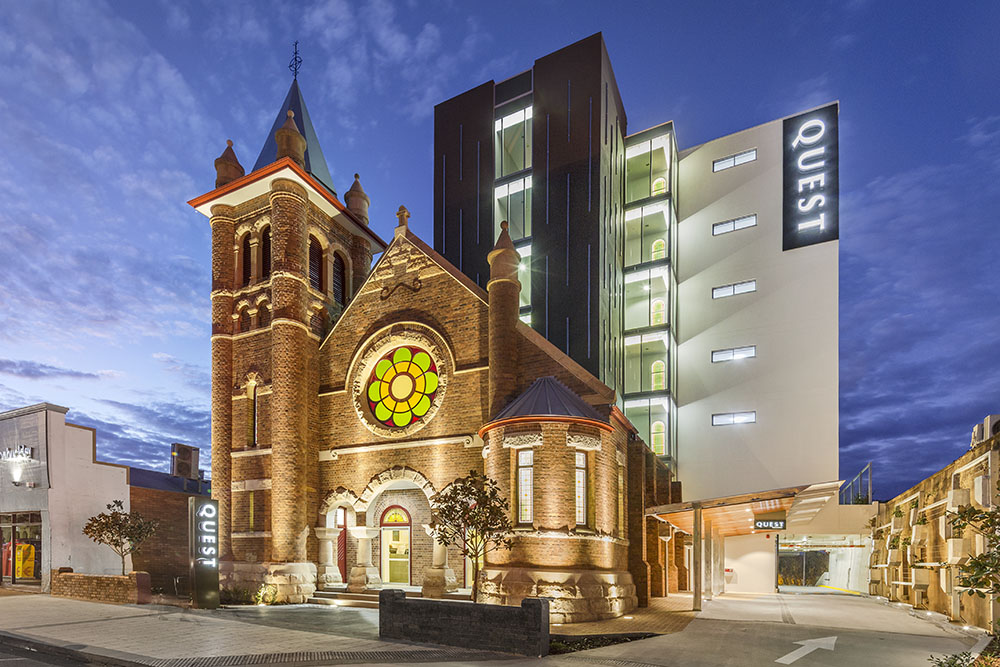 Hobart in Tasmania is home to many heritage buildings, including Quest Trinity House.Located on the Hobart city edges in the historic suburb of Glebe, Quest Trinity House provides Hobart accommodation that includes a heritage-listed building just a short walk from Hobart CBD. This unique property provides a fascinating architectural juxtaposition of contemporary townhouses set among stunning established gardens and buildings including the restored and heritage-listed Trinity House, which dates back to 1840, and Christ College, built in 1929.

In Western Australia, Quest Fremantle has a fascinating exterior, incorporating an old pub and modern touches –and is in the West End of the historic port city of Fremantle, close to restaurants and art galleries. Launched in 2016, this 4½ star, 121-key property involved the partial demolition of an existing warehouse and construction of a new five-level building integrated with the existing 1920s heritage façade. "I was pleased to be working on the project because I remembered the building as an operating church and, like a lot of people in Toowoomba, I had an attachment to it," he said.

"We tried to incorporate the new building into the old as I think we have an obligation where architecture is significant andunique and try to preserve it where we can." The six-storey development at the back of the church is home to 74 studio, one-, two-and three-bedroom serviced apartments.

At centrally situated, and also new, Quest East Perth, a former church is the architectural centre-point which holds the lobby and reception areas. The re-use of the heritage-listed, The New Church, is striking. The building was constructed in 1940 and designed by architect Richard Spanney in the Inter-War Gothic style, constructed of visually striking random-course laterite stone. The stained lead-light windows and vaulted loft ceilings contrast dramatically with the high-rise new build, at which most rooms feature views of the Perth City skyline or Swan River. Guests can utilise an alfresco rooftop barbecue area.

At Quest Ballarat, guests stay in what was formerly the Catholic girls boarding school, Loreto College. The historic building was redeveloped in 2010. Surrounding the hotel, you will find Her Majesty's Theatre, Ballarat CBD and shopping precinct, and Art Galleries.

Back in Melbourne, Quest Gordon Placeis a delightful National Trust-listed property located in the vibrant theatre district of Melbourne's CBD, just a minute from Chinatown and its many restaurants, while Quest East Melbourneis on Wellington Parade, directly opposite the Melbourne Cricket Ground and has a serious art deco vibe. It is a bright and stylish boutique property.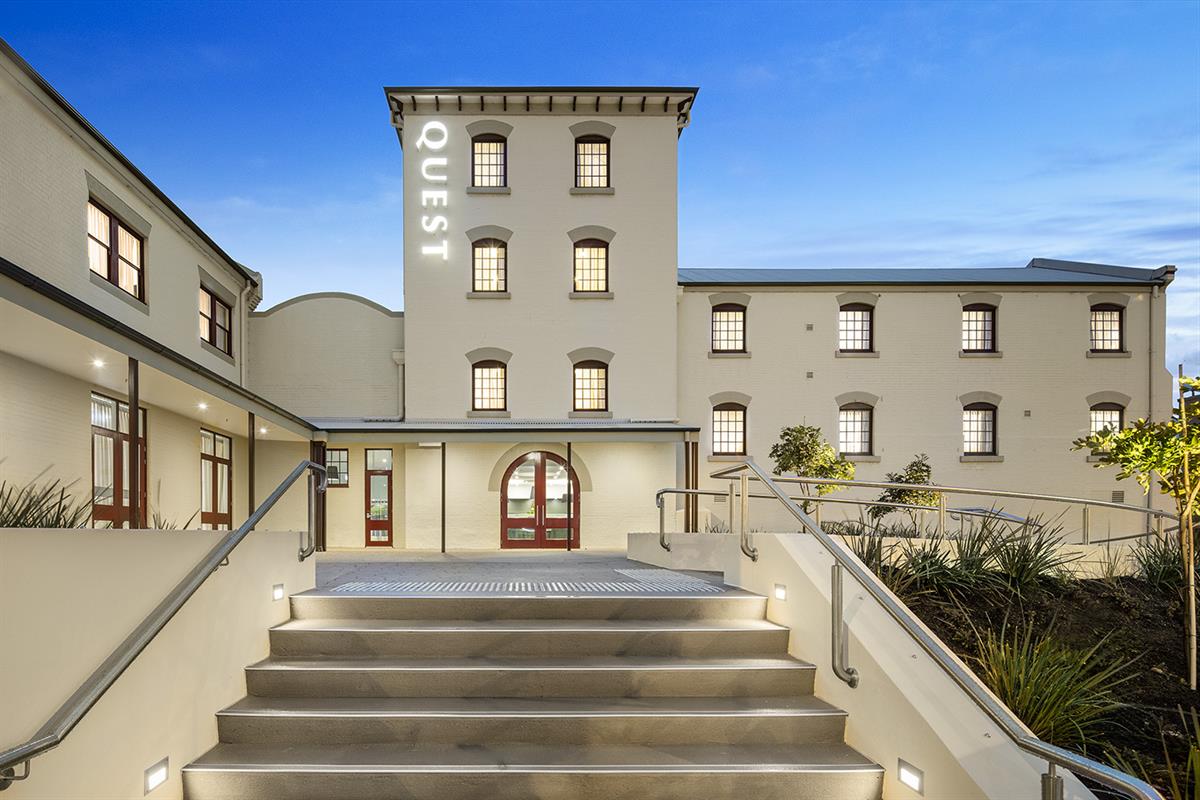 Continuing a national theme, Quest King William South in Adelaide is noteworthy for its historic façade of the Royal Caledonian Society. The building on King William Street was derelict and boarded up a decade ago but reborn as a modern city fringe apartment building –with contemporary facilities like a gymAnd turning old to new is a continuing Quest philosophy with the newly opened Quest Newcastle West located on the site of the former Newcastle Regional Museum and an old brewery.

Cheers to that.