Its fair to say that Perth and Western Australia in general is having a moment. With the mining boom pouring money in to the state there's never been a better time to visit as Beverly Ligman-Smith explains.
IF you've never visited Perth on business before, then let me tell you, you're in for a treat. Every other week in this sun-kissed city perched right on the edge of the Swan River, a plethora of new bars and restaurants are opening, shrugging off the city's old "Dullsville" tag and making it a vibrant city centre you'll want to explore.
If you find yourself here for a few days, you really will be spoilt for choice with where to go and what to see, so here's a few tips on its best bits.
Perth has indeed grown up.
The mining boom in the state's North West is funneling money in to the state, with big changes happening to the city's infrastructure - Elizabeth Quay is currently being built to open up the city's expansive waterfront and its rail line is being sunk to bring together Northbridge and the CBD. With the population rising by 82,000 in the past 12 months alone, it's no wonder that this is a city that is on the up.

Coffee Central
Let's face it, everyone needs their daily caffeine fix, and on any given day in the city you'll find workers bustling along St George's Terrace looking for theirs.
It's a great way to impress your business contacts if you know a few of the hot spots around town and there's plenty of choice these days too, with loads of little coffee windows and café's situated all over the city.

A few of the best are Lowdown Espresso Bar in Cloisters Arcade (lowdownespresso.com.au), Standing Room Only in Piccadilly Arcade - for the true coffee aficionado who needs a quality caffeine hit on the go before their next meeting, the Ristretto Coffee Wall and Northbridge Roastery and the Bucket Café (thebucketcafe.com.au).

Or if you're in one of Perth's inner city suburbs such as Subiaco, you'll find great food, coffee and atmosphere at Boucla or in Mt Lawley a damn good roast at Cantina 663.
Breakfast meeting
If you fancy doing business early in the morning, some of the best places to do it in the city are at The Subiaco Hotel (The Subi to locals), which has a relaxed and friendly atmosphere and consistently good food.

In the city you'll find great coffee and a bite to eat at The Cheeky Sparrow (cheekysparrow.com.au) and also at La Monakella (corner of Hay and Milligan Streets in the city) where you can enjoy brekkie and a fantastic collection of coveted Australian artist David Bromley's nudes on the wall.

If you want to try somewhere new and hip (ster) then head to the Gordon Street Garage – one of Perth's newest restaurants, it does some interesting breakfast options (corn omlettes, banana bread and pinwheel sausages to name a few) and has a cool industrial feel to it in West Perth (gsgarage.com.au).

Or if you have the time get down to Cottesloe's John Street Café and have your meeting outside under the Norfolk pines while you watch joggers and cyclists whizz by surrounded by the glorious old money houses of this most beautiful beachside suburb.
Food with a View
If you need to impress clients with your local knowledge of their city, there are a few fantastic restaurants that really make the most of Perth's beautiful river and ocean views. One of the best, for delicious food and good service is CoCos in South Perth (westvalley.com.au), where you can watch the sun go down over the river and the city – an amazing view with a great wine list too. If you want a bird's eye view of Perth, then try the C Restaurant – a revolving bar and eatery, which has a fantastic view of the city when it lights up at night.
And if you'd prefer something altogether more relaxed, then the new Beach Club at the Cottesloe Beach Hotel should be on your list, it attracts a well-heeled crowd, has a contemporary menu and you can see, smell and hear the iconic Cottesloe Beach from your table (cottesloebeachhotel.com.au).
Cocktail Hour
When a city's population grows as quickly as Perth's has lately, you'd expect there to be some very cool bars that pop up along the way and in Perth city, you won't be disappointed.
The Print Hall in Brookfield Place is one of the biggest city bars you'll find, situated in the old Newspaper House where Perth's daily newspaper The West Australian was once printed, hence the name. It's super popular on a Friday, with lines snaking out the door, but get there early or during the week and you'll be able to have a drink in the bar and then pop upstairs to enjoy the open air ambience of Bob's rooftop bar for a night cap (printhall.com.au).

On the smaller side, The Butterworth is new to town, effortlessly sophisticated and serves a sensational cocktail along with some fabulous food. It's also right off St George's Terrace, so the perfect place to end a business meeting.

Also on the Terrace you'll find the aptly named The Terrace Hotel. In a heritage listed building, The Terrace has a stylish European feel, where you can enjoy some people watching out the front with a glass of French champagne in hand or head out to the elegantly designed rear bar and enjoy a meal as well (terracehotelperth.com.au).

Other cool, but more low key bars around town include the Mechanic's Institute in Northbridge above Flipside Burgers, you can have a relaxed drink here, order a burger and they'll bring it up for you (mechanicsinstitutebar.com.au) or try Andaluz in Howard Lane, where you can talk shop while tucking in to delightful tapas plates and sample one of the many wines on offer from local drops to something with a more European flavour (andaluzbar.com.au).
Road Trip
If you do have the time, it's a sin not to hire a car and make your way "down south". Western Australia's Margaret River region is about three hours away from Perth and has such an abundance of good wine and food options, plus amazing beaches and shopping that you'll wish you had more time.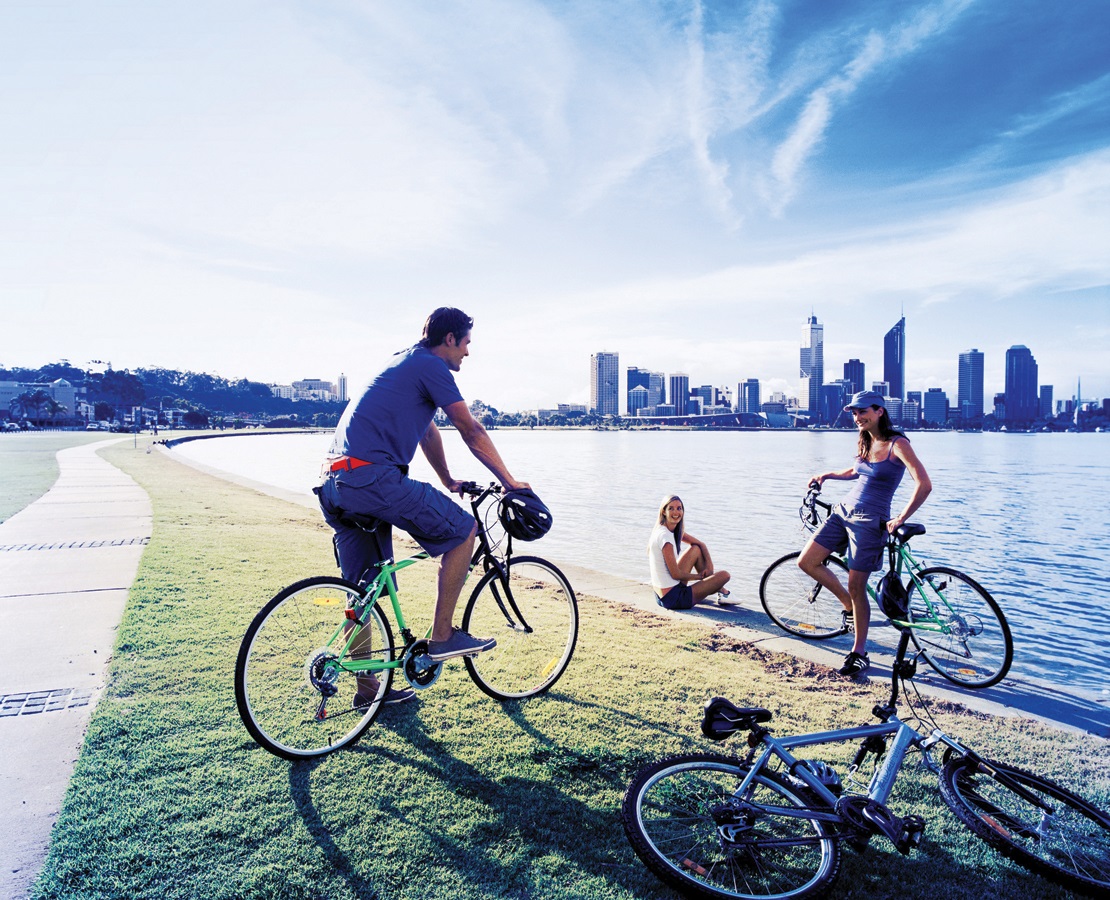 If you need a stretch stop on the way, why not stop off in Bunbury? This thriving port city has a plethora of good lunch options such as VAT Two on the Marlston waterfront and plenty of great shops to visit.
Its relaxed vibe pretty much encapsulates the West Aussie lifestyle and makes it a perfect get-away for a family. Some of the best wineries to visit are Cullen Wines; the very first winery in the area this rustic vineyard has fantastic platters to share and some of the best biodynamic wines in the region (cullenwines.com.au), another one you'll want to pay a visit to is Leeuwin Estate (leeuwinestate.com.au) famous for its fine South West wines and a fantastic menu. Or if you have the family in tow, some great options for eating out with the kids (playgrounds included) are Wills Domain (willsdomain.com.au) and Aravina Estate (aravinaestate.com) – at both of these vineyards, mum and dad can sit outside with a glass of wine, while the kids merrily wear themselves out.
As far as beaches go in the South West, don't miss Meelup, a quiet secluded cove where the kids can swim and there's always an ice cream truck or the beachfront in Busselton, where you'll find the longest jetty in the southern hemisphere (complete with an underwater observatory) and some more great food and wine at The Goose, right on the water (thegoose.com.au).
Valley and Hills
If you just don't have time for a trip down south (never mind there's always next time, right?), there's another wine region on your doorstep, just a 45 minute drive from the city. The Swan Valley has some gorgeous vineyards with restaurants to match and there's also plenty of day spas if you need to treat yourself before you get back on the plane. If you do have the time to get to the Swan Valley, it's a must to go and have a long lunch at Sandalford Estate, where you can sit by the fire sipping a big red in winter or whittle away a few hours under a stunning pergola of old vines in the summer months. Houghton Wines is another Swan Valley favourite and there are a host of smaller vineyards that are also well worth a stop.
If it's some down time of the relaxation variety that you're after there's some great day spas in and around the Valley. One of the best is the Hidden Valley Eco Spa Lodges and Day Spa or try Brookleigh, which also runs corporate team building days, conferences and events (brookleigh.com.au) or The Annasha Day Spa Retreat (annashadayspa.com.au). We promise you'll come back to the city feeling relaxed.
And last but by no means least, if you're a true foodie, no trip to this region is complete without a trip to renowned restaurant The Loose Box. Known for it's sumptuous French degustation menus put together by chef Alain Fabregues, The Loose Box really is a WA institution.
If you don't have time to head down south, then don't forget about Fremantle or Freo as the locals call it, this impressive port city and marina is full of rich maritime history, has some stunning old buildings to explore for those who love their architecture, some great markets, museums and shops and better still it's home to the famous Little Creatures brewery, mecca for those who love a good beer.
So now you have all of your WA inside intel, you'll have to agree that there's no better time to spend time doing business on the West coast than right now - and with the mining boom looking like it's going to continue for some time, we predict a very bright future for this sunny Sandgroper state.