Palmerston is one of Australia's youngest cities. Created in the 1980s as a satellite town, just 19km from Darwin, it has grown and developed rapidly and now offers a range of activities ideal for business people and tourists. Lee Mylne explains.
The planned City of
Palmerston
welcomed its first residents in late 1982 and is a 'young' city in all senses, with the population of around 32,000 people mainly being young couples and families.
Although it is close to all the attractions of
Darwin
, and to those further down the Stuart Highway - including the
Territory Wildlife Park
and
Litchfield National Park
- Palmerston has plenty of its own to offer to business travellers and tourists alike.
If you are coming up to the
Northern Territory
for relocation or work, Palmerston is located a short distance from the major arterial road, Stuart Highway. Nearby is also the Marine Supply Base and East Arm Port and Business Park and many current resource projects.
Palmerston's CBD has all the convenience required for a comfortable stay. All amenities and attractions are within easy walking distance of each other and include supermarkets, two shopping centres (with a third centre under development), restaurants, bars and entertainment, cinema complex and golf club.
Palmerston is also home to excellent public transport, community services (dentists, doctors, banks, and post office), library, government agencies and the new
Water Park
and Hospital under construction.
If you have an extra day to explore,
Mitchell Creek
and the
Escarpment
are great spots for bush walking, with a diverse range of natural habitats. There are also shell middens and World War Two sites to discover. The scenic escarpment trail starts at Cunningham Crescent and ends in Rosebery.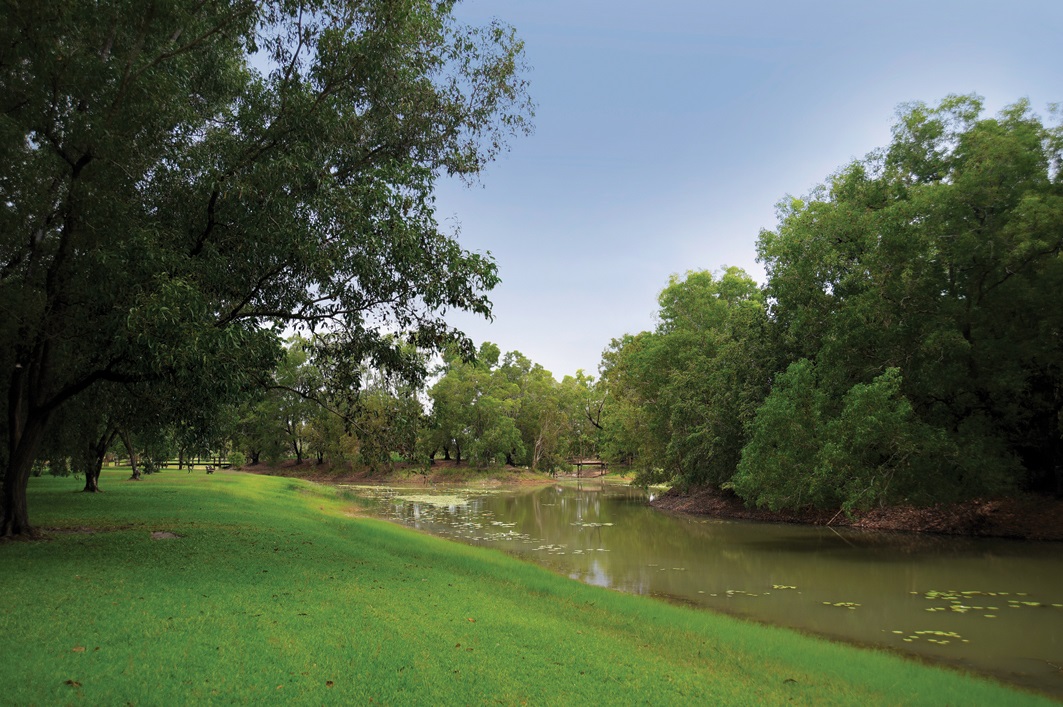 Marlow Lagoon
, one of the city's 100 parks, is a great place to get away from the business world year-round. It has an island bird sanctuary and a bush plants park, which features plants used by Indigenous people for food, medicine and crafts.
The art path at Marlow Lagoon is an outdoor art project developed under the guidance of community artist, Techy Masero, in which students and other members of the community have created a mosaic depicting the flora and fauna of the area.
If you're looking to relax after a busy working week, every Friday night during the Top End's dry season (May to October), the
Palmerston Market
brings the heart of the city alive. From 5pm, you can browse and shop at more than 150 stalls for fresh fruit and vegetables, local arts and crafts, plants, jewellery, and dine at food stalls that reflect Palmerston's multicultural community. There's even body massage on offer, just the thing after a big day doing business.
There's also live entertainment ranging from buskers to mainstream bands and DJs, country and western acts, multicultural dancers, clowns, games and competitions.
If you are looking to get some exercise in after a long work day, there are plenty of outdoor activities on offer. Palmerston has 32km of cycling paths (most lit for night use as well), and the city's suburbs are dotted with parks and lakes, including
Sanctuary Lakes
in Gunn and the lakes in Durack, which adjoin the city's 18-hole championship golf course.
The
Palmerston Golf Course
is a public course, located in the city centre, with a 'challenging but rewarding' par 71. Other facilities in the city centre include an indoor recreation centre and gymnasium, with an Olympic-sized public swimming pool with dedicated lanes for lap-swimmers, perfect for after work exercise.
Visit
Northern Territory