At Quest, we know that every guest and every stay is different — so we want every member of staff to feel empowered to help our guests feel welcome, safe, and right at home.
From working with local businesses to help raise a smile during lockdown, to providing support during times of crisis, check out the stories below to see how we encourage and celebrate Hero Moments at Quest.

Quest Bundoora

The team from Quest Bundoora went above and beyond for a family staying at their property. Kasey, the property manager touched base on a weekly basis to ensure that the family's needs were met during lockdown and also placed balloons in the townhouse to acknowledge and celebrate their son's 16th birthday. When the family expressed issues with the mattress, the housekeeping and maintenance teams wheeled down a newer mattress from the main building to the townhouse the family were staying in. When the new mattress didn't fix the issue, the Quest Bundoora team hired a van and collected the family's mattress from their home and assisted with returning the mattress upon check out. The family were very grateful and really felt like the team took a personal interest in their wellbeing. A very big thank you to Kasey, Lisa, Karan, Linda, and Diego for going above and beyond for our guests!
Quest Burwood East & Quest Mont Albert
Quest Burwood East and Quest Mont Albert started a great staff initiative to make each guests stay memorable - staff created a safe walking/running map for guests while gyms remain closed due to Melbourne's lockdown.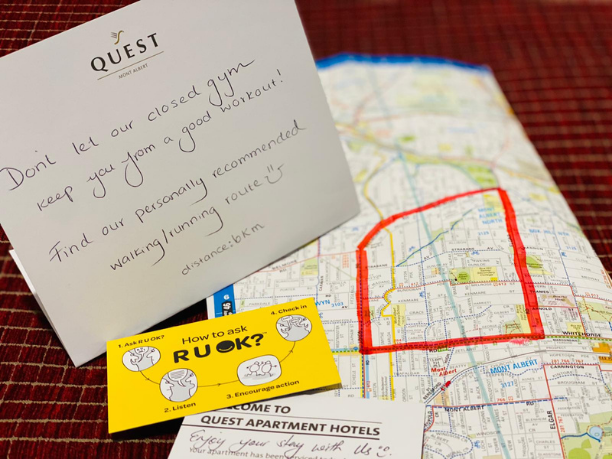 Quest East Perth
Wayne from the maintenance team was alerted to a faulty hot water system in one of the apartments that was required for a long stay booking. Wayne worked with a contractor to get the apartment back up and running with a new hot water system fitted all within the same day which allowed minimal down time of the apartment and the long stay guest was able to enjoy a nice hot shower.
The Director of Sales, Arshan, assisted a guest with an important parcel that was never delivered to the hotel. Arshan offered to go and collect the parcel for the guest from the local Amazon distribution depot and then delivered it to Quest Innaloo where the guest was staying before his next stay at Quest East Perth.
Quest Moonee Valley
A guest who was occupying an accessible room was unable to access the balcony due to the step from his room. The team discuss what they could do to assist the guest and were able to borrow a ramp from a TAC company for the remainder of his stay. The guest was thrilled with the outcome and was excited to enjoy his morning tea on the balcony and has extended his stay until mid-December. Thank you to Melanie, Vince and the front office team for working together to provide a positive experience for this guest.

Quest NewQuay
Business Development Manager, Sandra personally delivered a small gift to our long stay guests to bring some happiness to the long stay guests who like all of us, were doing it tough. All of the guests were so thankful, it was a small gesture that had a huge impact with a few guests in tears. Well done Sandra!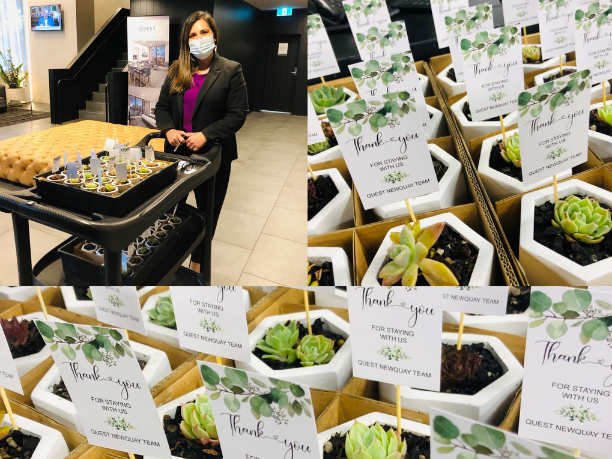 Quest Orange
Quest Orange have a lot of long stay essential workers staying with them at the moment who are separated from their families in Queensland and Victoria. They are mining workers so working underground and in tough conditions. Mental health has been very prominent and have had many families calling to send care packages. Business Owner Amy and Guest Service Agent Kristy decided to do something for them by baking 250 homemade choc chip cookies as there's nothing like a home baked sweet treat to make you feel a little closer to home. They placed them in the rooms with well wishes from Amy. Amy is also separated from family and friends in Victoria as she packed up her life 2 years ago to open Quest Orange so she understands how it feels to miss family. They received thank you messages from guests who felt like the Quest Orange team cares and is providing the very best home away from home experience in this current climate.

Quest Robina
Head Houseman, Roth goes above and beyond for a guest by transporting them to their hospital treatments every Monday to Thursday at 8am every week for the duration of their stay. The guest was so thankful that they didn't have to worry about commuting to and from the hospital and could relax during the journey.
Roth also overheard a guest in the hallway suggesting to a friend that it would be a good idea if the shower had a hand rail so Roth went out and purchased a hand rail to fit in the guest's shower so that the guest felt very secure and safe getting in and out of the shower. Thank you Roth for providing such effortless service to our guests.
Quest Scarborough
The team at Quest Scarborough made the commitment to wrap all luggage to help guests feel safe. The luggage was delivered into the guests rooms prior to check in, ready for guests or delivered to reception on departure as requested.
Upon check in staff ensured an apprehensive isolating guest was allocated to an ocean facing room. This was unexpected by the guest and very much appreciated who wrote a note to the front office team which said: "Hello Ronnie, thanks for making available a room with a great view, without which I couldn't have survived iso!" Another isolating guest was very appreciative of the time and genuine car and support from the Quest Scarborough team who engaged in frequent chats and surprise coffees.

We are so proud to have such caring and hard working staff throughout our network. Thank you to each and every staff member for making our guests stay effortless!