Jamie Durie opened the doors of Durie Design in 1998 in the areas of commercial landscape architecture. Durie has been the principal designer behind commercial projects and public spaces in over 30 countries. Today the business mainly focuses on industrial design, resort design and furniture design.
An author of 12 design books, Jamie has also hosted over 52 Primetime design television shows airing in over 150 countries.
As the original host of The Block in Australia, Jamie then secured a five-year contract with the Oprah Winfrey Show in the US. Today, however, Durie works mostly from northern Sydney out of his design office and also presents several design shows. Jamie also launched Jamie Durie's Groundswell, which aims to inspire people globally to make their homes and lives more sustainable.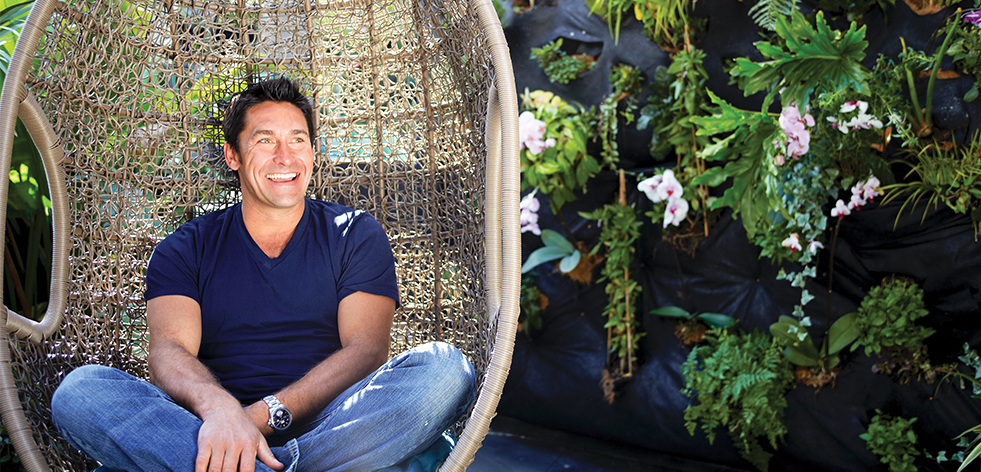 How do you judge great design?
Great design can come in all shapes and sizes. For me, proportion is everything. If the chair, lamp, lounge or sideboard is well proportioned with both a unique and considered design approach that is mindful of the way we interact with it, it's footprint on our environment and our health and
well-being, then I would class it as good design. For me, sustainable design that is timeless and exudes the sort of durability and quality where that piece can be handed through generation from Cradle to Cradle, then it has earned its stripes to be put into the category of good design.
What's your favourite holiday destination?
My favourite destination changes quite a bit. But right now it is the white cliff coastlines of Puglia; the home of Natuzzi Italia furniture. I am lucky enough to visit there twice a year during my design collaborations with them, and it's the kind of place that you never want to leave. The food, the people, the beaches, the history, are unsurpassed, in my opinion.
What gadgets do you always travel with?
A sketchbook, a soft pencil and chargers for my devices so I can create concepts and send them anywhere.
What is the first thing you do when you arrive in a new city?
I find the nearest local market, wherever fresh fruit and vegetables are usually is where you find the soul of the city. Of course, the bars and restaurants are never far away.
What's your best travel tip?
Keep discovering. It's a big world out there - no need to repeat a holiday. For me, I like authentic countries, rooted in culture and areas that are uncommercialised. Luxury for me can be found anywhere. It can be an exotic location, a carefully cooked meal, a newfound beach, or an old room with a new view.