"Expectations of what people with a disability can do are low".
When he's not busy winning gold medals and trophies, serving as a breakfast radio host or launching foundations and initiatives, Dylan Alcott, 28, is planning global domination.
Having dazzled the crowds at Wimbledon this past July, it's hard to imagine there was ever a moment where Dylan Alcott (he of the cheeky grin, quick wit, and propensity to burst into Wu-Tang Clan lyrics on live television) doubted himself. The way Alcott tells it, however, dreams of playing on those fabled greens in the whites he now swears to make him 'look sexy' were the stuff of unicorns of fairy dust during tough times when all he could bring himself to do was play video games and eat junk food on the couch.
Born with a tumour wrapped around his spinal cord, Alcott underwent an operation to have it removed within the first few weeks of his life - a procedure that left him a paraplegic. "I found it really tough growing up with my disability," he wrote in a candid and heartfelt first-person piece for PlayersVoice (playersvoice.com.au). "I was okay, but then I got bullied at school, and it became really hard. I don't think I'd be doing much, if anything now, if not for sport," he added. "If that kid who was embarrassed to go out of the house was told he would have played Wimbledon, there's no way he would have believed it."
To hear Alcott's family speak of him, it's evident true grit ran in his veins from the get-go – whether Alcott himself realised it or not. Words such as 'fighter' and 'competitive' are thrown about regularly and why not? This is the man who as a kid took up both wheelchair tennis and wheelchair basketball as a kid and not only took home gold and silver as part of the Australian Mens National Wheelchair Basketball team at the 2008 Summer Paralympics in Beijing, but also two Paralympics tennis gold medals at Rio and five grand slams. Add to that a sneaky Medal of the Order of Australia along the way and a commerce degree from the University of Melbourne, and you could probably say he did 'okay'. "I'm a closet nerd as well," he says. "So I made sure I gave academics a good run,"
The boy whose first few months was spent on a knife's edge was only getting started. In 2017, Alcott established the Dylan Alcott Foundation (dylanalcottfoundation.com.au) with the core purpose of helping young Australians with disabilities gain self-esteem and respect through sport and study – an initiative that has spawned fundraisers such as Ability Fest, a music festival featuring everything from pathways for wheelchairs and quiet zones for those with sensory disabilities to Ausland (Australian Sign Language) interpreters. "Of the 6,000 people who came [to Ability Fest], 500 of them had disabilities and 300 of them had never been to an event of any kind before because of lack of access or understanding," Alcott says.
Later that year, Alcott was awarded Patron for International Day of People with Disability, earlier this year he launched Get Skilled Access (getskilledaccess.com.au), a training organisation working with Paralympians to train business and government employees how to treat customers with disabilities. Oh, and somewhere along the way, he has become a highly sought-after motivational speaker and Triple J radio host – a gig he says he scored after he made a name for himself wheelchair crowd surfing at music festival Soundwave.
If you're in mild shock by now, Alcott wouldn't be surprised, explaining that the expectations of what people with a disability can do are all too low. "I'm just showing you can still do what you want to do. You can still play sport. You can still get a job. You can still go on a date. You can still travel. You can still do things that people take for granted, but there's this misconception that we can't," he says. Yes, he believes the sporting world still has some way to go, revealing Australian Open Winners receive AU$3.6million while he received AU$12,000 in prize money after winning this year, but he's glad interest is building and no, he doesn't ever wonder what life could have been had Alcott the use of his whole body. "If I could walk, would I have just played at Wimbledon? Maybe. Probably not," Alcott says. "But I have, so who cares about what I could have done? I just worry about what I can do and what I'm doing right now,"
Entire lifetimes could fit within Alcott's relatively short 28 years, but this doesn't mean he's ready to take the backseat any time soon, declarations of wants, dreams, and desires being regularly broadcast for all to see online. He wants to build up his foundation, take over the media landscape, have his own talk show and possibly even hit good old Summer Bay. "Get me on Home and Away! Get me in Hollywood!" he wrote within a first-person piece in PlayersVoice. "There's so much I want to do, and everything seems to be happening for a reason, so I'm just going to keep putting myself out there."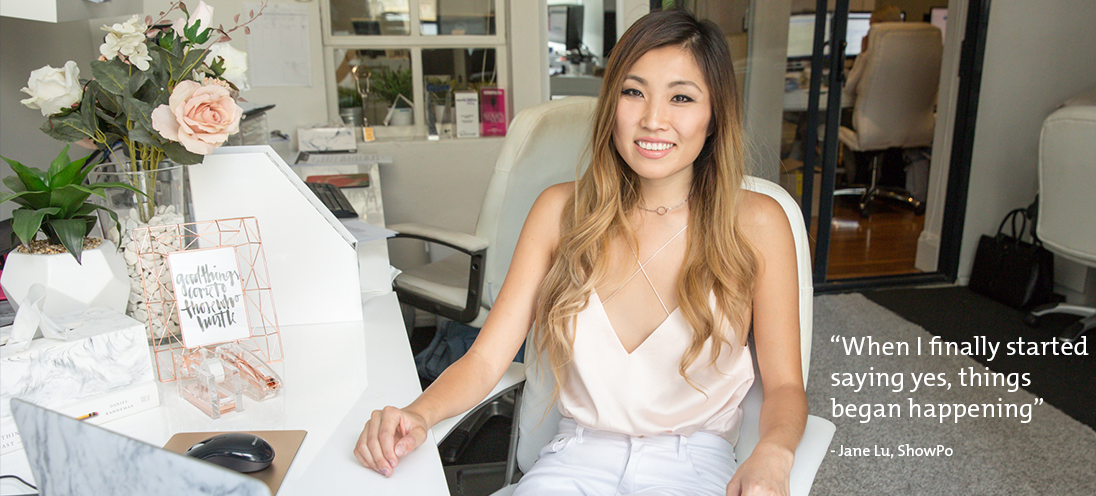 From 'bludging at work on social' to creating online retail juggernaut Showpo, 31-year-old Jane Lu's journey to success veers sharply off the conventional – just the way she likes it.
Spending all your time on Facebook in a job you abhor hardly sounds like the best kind of training for setting up an AU$30 million a year business, but Jane Lu, founder, and CEO of online retail juggernaut Showpo (showpo.com) is keen to tell it straight.
Put to her the suggestion that there must have been some roadblocks to starting a global company at the tender age of 24, and she not only dismisses it but declares that youth might have even been instrumental in the company's success. "Business strategy, agility, and hard work played more of a role [than age], but since I was of an age where I spent most of the time on Facebook, I guess you could say I was comfortable in the digital space and that ultimately played a huge part in the success of the brand," she says. "As we all know, other than inventory, marketing is the other major expense to any online fashion business, and if you know what you're doing, you can do just that for next to nothing."
Lu, of course, has come a long way from the 'girl bludging at work on social'; today, she's a 31-year-old powerhouse, having been nominated for countless awards and taking home the titles of Cosmopolitan's Entrepreneur of the Year in 2015, Forbes 30 Under 30 Asia in 2016 and debuting on the AFR Young Rich List 2017 with a personal fortune estimated at $32 million. Not too shabby for a girl who immigrated with her parents from their native China at the age of seven not knowing a word of English.
With the weight of parental expectation hanging above her head, Lu excelled at school, earning a job with a Big Four accounting firm before quickly realising that particular career path wasn't for her and silently quitting soon afterward to concentrate on the side business she ran with friends. This isn't the part where success kicked in, however; the business soon failed, leaving Lu with an AU$60,000 debt and a nagging fear she'd never be able to dig herself out of the hole. "It was horrible; I had nothing to fall back on – no job, no luck of finding a new job in the midst of the global financial crisis and far too much pride to tell my parents that I had dropped everything I had worked so hard for only to fail," she remembers. "I knew the only thing I could really do was to start another business, and since I had little hope of getting investors on board or bank loans, I knew I was going to have to hustle like I've never hustled before."
Seeing the opportunity in the online fast fashion market, Lu decided to start her own, teaching herself how to build a website by Googling 'how to use HTML' and ordering her first shipments on consignment to avoid spending money she didn't have. No small feat, but Lu's biggest challenge as she tells it was keeping up with the pretence to her parents that she still had her accountancy job, leaving the house every day in a suit and empty laptop bag while working on building Showpo to a point where she could reveal all. It was a charade she kept up for six months.
Still, you can't help but get the feeling that Lu's parents must be pleased; what began in 2010 with a couple of shelves of affordable clothing and some well-timed social media campaigns (Lu's first 'Face of Showpo' competition, for example, cost nothing to run but increased followers from 3,000 to 20,000) has grown to a global empire with a team of 43 shipping everything from everything from clothing and homewares to pool toys and reusable cups to over 80 countries. "I was lucky that I launched the business at a time when the big retailers out there didn't fully utilise social media," Lu admits. "Either they thought it was a fad or they simply didn't get it, but social helped us get ahead quickly."
Keen to pay it forward and inspire others to get out there and 'just start', Lu now does the rounds as a keynote speaker, but when it comes to personal success she says she has the privilege of having three such 'AHA!" moments. "There was the time I realised that even if the business failed, I had enough experience to work for a competitor, so I never have to back to accounting, and there was the time I paid off my parents' mortgage – a thrill since they sacrificed so much for me when we immigrated to Australia," Lu reveals. "But the third came when I realised we had people applying for a job with us – not for the sake of working in fashion, but because they love the brand and believe in what we do."
As Showpo continues to grow (and grow) through product diversity and geographical expansion, Lu takes a moment to consider what the past seven years have delivered. "Never did I think I would accomplish so much at such a young age," she admits. "But through the crazy journey, I now know that anything you want in life is possible if you're willing to work hard for it."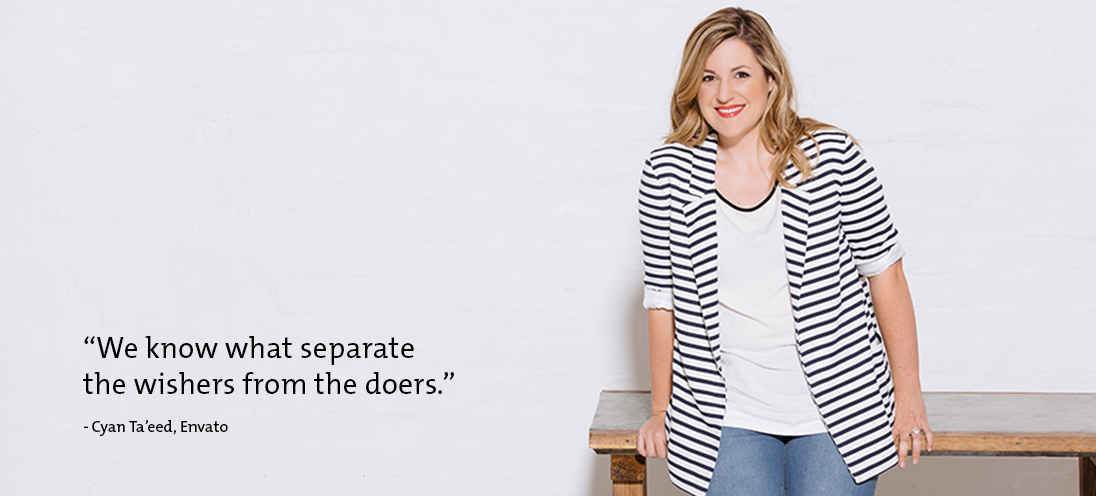 Leaping from living in her parents' basement to becoming one of Australia's wealthiest women, what Envato co-founder Cyan Ta'aeed, 38, does next could be the biggest surprise of all.
When you come from a long time of entrepreneurs, from your great-grandmother who was a business-owning pioneer in a time when most women didn't work, all the way down to your aunts and uncles, what choice do you have? Do you settle for a simple salaried job at the bank, or do you, at the age of 26, create something so unique that you debut in BRW's Young Rich List 2016 as the top woman to make the cut with an estimated wealth of AU$184 million? The way Ta'aeed speaks of it, the former was not much of a consideration. "My family are all entrepreneurial people," she told Foundr (foundr.com). "I grew up thinking that was a relatively normal thing to do – to work for yourself." And work for herself Ta'aeed did.
The road to success was not what you'd call a smooth one. First, there were other businesses on which to grind her teeth – one in jewellery ("It didn't go well, but I learned a lot about what not to do in the process," she told Foundr), the other in freelance graphic and web design but she found providing these services didn't feel satisfying. A conversation with new husband Collis bore fruit; the pair deciding to develop a digital marketplace where people can buy and sell creative digital goods like music, graphics, website themes, video and photos where the creators get the lion's share of the sales.
The idea behind Envato (envato.com) wasn't to create any kind of empire – not at the beginning anyway – but to create enough of a lifestyle so that the newlyweds could travel and work on the business in their downtime. The couple – along with their friend and co-founder Jim Rung – believed they could knock up a stock flash site in a couple of weeks. What could possibly go wrong?
In the end, Envato took six months to build – by which time they were in debt, living in Ta'aeed's parents' basement and working out of their garage. However, by the time the business did launch in 2006, no one was more shocked by how quickly it took off than Ta'aeed, explaining to Business Chicks (businesschicks.com.au), that she never expected the company to grow the way it did. "We hit a hole in the market at the right time and luckily managed to develop quickly enough to capitalise on that," she said.
Today, Envato has a team of over 300, is the recipient of multiple awards such as Australia's top exporter for the creative industries and regularly appears high on the list of the best places to work in Australia. Despite the company's success, Ta'aeed stepped away from an operations role in the company (she still serves on the board) last year to focus on what Ta'aeed says were other opportunities banging at her door. "For quite some time I said no because I was afraid of failing," she told Engaging Women (engagingwomen.com.au) after she won the 2015 Telstra Victoria Business Woman of the Year award. "It was only when I started saying 'yes' that things started happening."
For Ta'aeed, a mother of two young children, 'yes' has meant founding New Day Box (newdaybox.org) which distributes resources to women in domestic violence crisis centres, taking on speaking gigs, advocating for diversity in tech, and most recently, creating and launching an artisanal chocolate business Hey Tiger (heytiger.com.au), which doubles as a social enterprise with 50c from each full-size bar going to The Hunger Project (thp.org.au), which works to sustainably end hunger.
There's no doubt it's a lot to achieve at such an early age, but Ta'aeed is keen to point out entrepreneurship is a skill like no other, and that practice makes perfect. "It's very easy when you look at people who've done exceptional things to think somehow that they're different," she told Engaging Women. "I used to think, 'One day I will do exceptional things, but I always felt it wasn't me now and then one day I came to the realisation I was never going to have the master plan. I'd never have to confidence to think, 'Of course' I can do this'". Ta'aeed's advice? Do it anyway, for you never know just where you might land.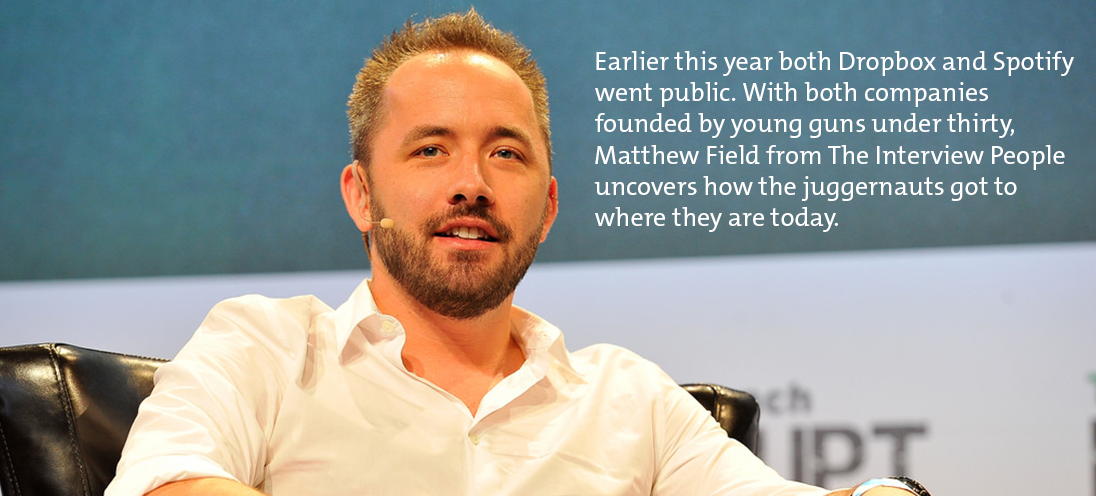 Drew Houston is not your typical chief executive. Unlike many founders, the now 35-year old became one of a rare breed who took their idea all the way to a public company earlier this year. Dropbox, founded by Houston in 2007, launched a US$9 billion float in New York, the culmination of an 11year journey for the cloud storage company that provides a simple way to save and share files online.
Its rapid growth saw the Dropbox become a viral hit with consumers, and its popularity was such that the late Apple chief executive Steve Jobs once tried to buy it - then threatened to destroy it. With more than 500 million users, Dropbox was hoping to woo Wall Street and vindicate its founder's decision to turn down Apple. Here is the Dropbox story.
A coder and problem solver, Houston's upbringing saw a fascination with computers and gaming from an early age. In an interview with the New York Times, Houston said one of his formative moments was "toddling into the living room... my dad showed me how to write my first couple lines of code in Basic, and that began this odyssey of learning how computers work".
Houston became, and remains, a keen gamer. He took to looking into the back-end of games he played, beta-testing games for developers. At just 14, he was offered his first job working for a game developer after contacting them about all the bugs he had found in their software.
As a student at MIT, Houston first conceived the idea for Dropbox. Credited as one of his key learning experiences, Houston joined a fraternity, Phi Delta Theta, where he met several other students busy pushing for business success between classes and college life.
Houston says the inspiration for a file-sharing service came after he repeatedly forgot his USB stick while attending classes at university. He found existing apps didn't work like he wanted. "Nothing just worked," Houston said in an early Dropbox blog post. "So I started hacking something together for myself and then realized it could solve these problems for a lot of other people."
Within months of its founding in June 2007, Dropbox had secured funding from one of the biggest names in Silicon Valley, Y Combinator, to turn his idea into a business. Houston was paired up with fellow MIT graduate Arash Ferdowsi to take on the cloud.
In 2013, Houston returned to MIT to deliver a commencement address to students. While Dropbox's rise had been meteoric, the company has had no shortage of issues. That it has never been profitable is one of the key concerns of investors (although it turns over around US$1bn a year), while the challenges of growing a Silicon Valley company for a young founder and team were evident.
"As you might expect, building this company has been the most exciting, interesting and fulfilling experience of my life," Houston told MIT students. "What I haven't really shared is that it's also been the most humiliating, frustrating and painful experience too, and I can't even count the number of things that have gone wrong."
Dropbox also struggled to convert the popularity of its app, which grew from around one million users in 2010 to 500 million by 2016, into profits.
The company has never been profitable, and its approach of being consumer-focused came under pressure. In 2009, just two years after founding the company, Houston and co-founder Arash Ferdowsi were asked by Apple's chief executive, at his peak as the iPhone launched the smartphone revolution, to come to a private meeting.
Jobs apparently offered to pay hundreds of millions of dollars to acquire the company, but when Houston refused, called it a "feature, not a product." Houston said Jobs told him if Dropbox wouldn't join Apple he would "kill us with iCloud."
Spotify has become the star of a struggling music industry. Launched in 2008, the music streaming service made its founder Daniel Ek, 35, a billionaire when the company listed earlier this year. Its success is a far cry from the seemingly inexorable decline of the music industry when it was founded.
A millionaire at just 23 years, Swedish entrepreneur Ek already seemed set for life. The computer whizz kid had cashed in on one of his first ventures and in 2006 was wealthy enough to consider early retirement. However, soon he had started work on a venture that would shake up the failing music industry, create a new breed of music company and force the sector to wake up to the impact, and potential, of the digital age.
Spotify now has 157 million users, including more than 70 million paying subscribers. It has built a music force that has double the paying members of Apple. It is a rare European start-up that has beaten out even Silicon Valley giants.
In a 2010 interview with The Telegraph, Ek said his company would soon be worth "tens of billions" and that he would "never be interested in selling". Few founders find that confidence vindicated.
In his letter to investors published earlier this year, Ek credited his childhood with giving him a passion for music and technology. Growing up in Rågsved, Sweden, at 14 Ek began his first business as a teenager out of his bedroom charging US$100 a go to build websites, according to a profile by Pando.
A university dropout, Ek worked for several tech companies before founding an advertising company called Advertigo, which he sold for more than US$1M in 2006. As a millionaire in his early twenties, Ek lived a life of parties and even considered early retirement, yet just months later he was working on plans for Spotify.
Ek's own love of music is broad, with early favourites including Led Zeppelin and the Beatles, but his own personal Spotify shows tastes varying into hip-hop, RnB, dance and spanning the decades.
In the mid-2000s, iTunes was coming to dominate paid-for digital music, but still could not compare in ease of use to many pirated music sites. Ek grew up on file-shared music in the Napster generation and Sean Parker, the founder of Napster, was an early Spotify investor.
Ek hoped to bring easy the user experience that pirated music had created while turning the music business into a 21st-century industry and bringing music from around the world to listeners.
Spotify's model was fundamentally opposed to what some in the music industry wanted from the rise of digital music. In 2008 when Spotify launched, the music industry was struggling with resurgent piracy and more than a decade of revenue decline. In his letter to investors, Ek noted: "Music was too important to me to let piracy take down the industry."
Spotify set up, controversially, as a "freemium" platform. Gaining customers through subscribing for free music, then offering a premium, paid-for service. Giving away music is not to all tastes, and the site has had long-running disputes with artists such as Taylor Swift and Adele, but record labels have since come on board.
Its features have also made it hugely popular, such as its Discover Weekly playlists that can find hidden gems for personal tastes, to shareable playlists users can curate.
With its exploding growth Spotify entered the US in 2011. It also had a head start on Apple Music, which only launched in 2015, and rivals like Amazon's Music Unlimited or Tidal. Meanwhile, Spotify has slowly pushed more users into paying for its model.
Despite this growth and widespread success in Europe and beyond, Spotify still has a huge market to crack. Ek has noted that, still, most people who listen to music online don't pay for it. However, following a long decline, Spotify is one of the forces driving growth in the music industry.
"Today, Spotify is one of the largest drivers of global music revenue," Ek wrote to investors about the float. "We've helped restore a rapidly shrinking industry to growth, and connected over a million artists with hundreds of millions of fans."
Spotify is now plotting its next steps. Future plans could even include hardware, like its own smart speaker, while cutting losses and adding subscribers will also be key. In a note to the company, Ek said: "It's the day after, and the following day that matters."
He signed off with lyrics from Daft Punk: "Harder, better, faster, stronger."