One of the most accomplished fashion labels of all time, Diane von Furstenberg (DVF), is a woman and a brand synonymous with effortless style, comfort and class. It's little wonder therefore that her six-storey corporate office headquarters (complete with a "tree-house" private dwelling) in NYC's meatpacking district is at the pinnacle of considered and thoughtful workplace innovation.
Designed by Architect Magazine's 2017 #1 design firm WORKac, the DVF building is a hallmark example of the incredible advances in work 'place-making'. Public Relations and Influencer Manager at DVF, Stephanie Kozinski believes the office is an embodiment of the brand and all it represents. Its open, light environment transfers across into employee communication channels.
Instead of taking time and effort to set up formal meetings, workplace culture encourages making the most of the open-plan layout. Colleagues simply cross the floor to another desk for a quick, accurate answer. The team works holistically in a collective flow, staying focussed on current projects and continuing efforts with correct, to-the-minute information.
Around the world, offices like the DVF headquarters are facilitating a new benchmark for how, when, and where we do our work. The workspace has become a status symbol in its own right. By no means has it sacrificed its efficient output (on the contrary), but the modern-day office now achieves a lot more. It works to attract, to provoke a response, to deliver outcomes and to make a statement.
It's leaving as light a footprint as possible, but a significant and thoughtful impact. Wearing the badge of 'best workplace' has become a coveted and courted feature placed high on the employer agenda, and how a workplace functions and feels is a fundamental contributor.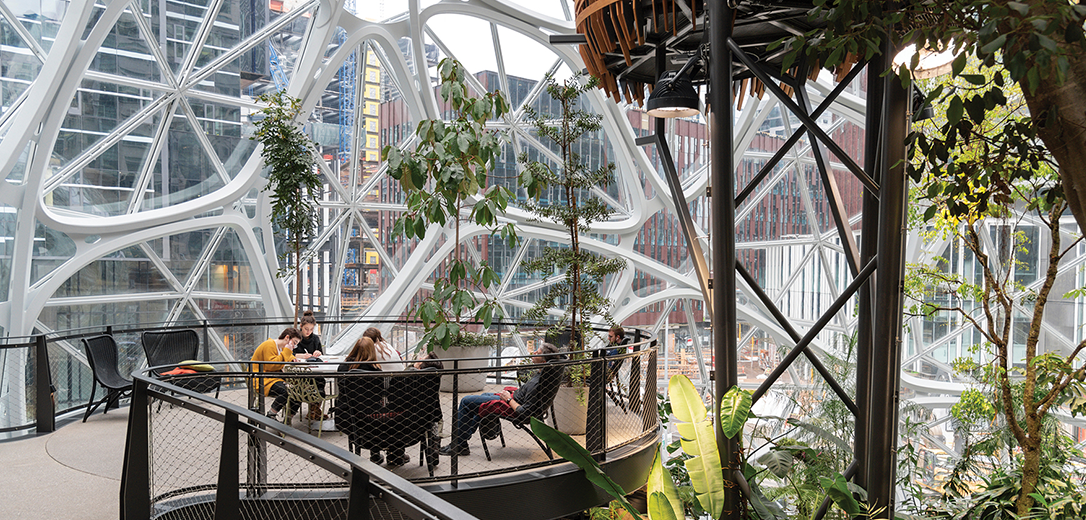 WHY DOES OFFICE DESIGN NEED TO MATTER?
It is estimated the workforce can represent as much as 70 per cent of an organisation's operating costs, and the physical work environment is a leading factor contributing to performance and job satisfaction. So looking after the workplace and all those operating within it should and must be paramount to business success. An office that is thoughtfully planned and considered, both in terms of its physicality, its culture and its systems should expect to reap myriad rewards. These include attracting top talent, improved staff morale, satisfaction, outlook, retention, productivity and efficiency, to decreased workplace claims, staff stress, and burn-out.
So how is this achieved? Employers and specifiers are increasingly drawing on science and 'data design' to inform critical decisions that can lead to all manner of improvements for the workforce. Here we look in-house at larger scale offices, but much of this thinking is also fervently applied in shared workspaces and can be adopted by smaller and even home office dwellings.
Have you ever seen a caged animal behave after prolonged confinement? It exhibits any number of stress manifestations and unsettling behaviour. It's not in its natural element; it's not where it's supposed to be and doing what it's supposed to be doing. We don't want to liken the human office workforce precisely to caged animals - in this evolved world we are doing what we are supposed to be doing.
That said, the modern-day worker spends upwards of 90,000 hours at work, and depending on your school of thought, we were not originally built to be indoor creatures. One stand-out firm is blazing a trail when it comes to jaw-dropping creativity and improved workplace well-being through design. Named by Fast Company as one of the most innovative architecture firms for improving well-being through spaces three out of the last five years, NBBJ is a design practice that has partnered with the likes of Google, Amazon, Samsung, Microsoft and Tencent.
Adopting an integrated approach to design solutions, NBBJ projects - several of which we will touch on here - embrace and advocate fresh air, daylight and views, healthy land, energy use/reduction, green materials, water conservation, community connections and renewable energies.
When it comes to better linking with nature, one of NBBJ's most spectacular current examples is in Seattle. Part of the Amazon Headquarters, the Amazon Spheres are three show-stopping glass conservatory-style workspaces featured on the office grounds. A direct link to lush, natural surrounds, they house tens of thousands of plants and trees from some 30 countries around the world and include an aerial boardwalk leading to elevated 'nests' in which employees can think and work creatively.
Much of biophilia focuses around being green. When it comes to stepping lightly, rating systems are an excellent means of starting on the right foot or evaluating current offices to see if they pass muster. The UK's Building Research Establishment's Environmental Assessment Method (BREEAM), the US's Leadership in Energy and Environmental Design (LEED) and the Green Building Council of Australia's Green Star are green rating systems developed for new buildings as well as existing structures undergoing renovation.
Being green is, however, only one piece of the picture. The International WELL Building Institute™ (IWBI™) has established itself as "leading the global movement to transform our buildings and communities in ways that help people thrive". The WELL Building Standard™ provides the framework for a global rating system focusing on how buildings (and everything within them) can improve and ideally enhance the health and wellness of those within and around them.
Big names like Lendlease, Charter Hall, Investa, EDGE Olympic Amsterdam, CBRE Madrid and Deloitte New St Square London have all achieved WELL certification (independent third parties undertake assessments and audits). The organisation states that 3,880 projects encompassing 472-million square feet across 58 countries have so far applied for WELL. Australia is leading the WELL market, with ten per cent of its total occupied office footprint now either in the process of registering or certified.
So what are some of the key design features that make offices work so well? Utilising neuroscience research to create connected and collaborative environments is one solution, and something DVF does simply but masterfully.
The DVF team has found that open floor plans are great incubators for inter-departmental transparency and collaboration. Their floor layout allows for open discussions and communication, which results in more creative and collective initiatives. Alibaba's Xixi Campus is creating similar outcomes but through more complex design and interaction. The building incorporates integrated office space, open space, private conference rooms, communal areas, garden work stations, and even a sports centre. The spaces encourage a thriving communal workplace as well as a sense of connection. We see this also at Amazon through their entire purpose-built spaces that deliberately take employees out of the working zone and into social areas. Prayer rooms, roof decks, game rooms, and even rooftop dog parks all work to give an urban edge to the destination and with it, that element of connection and collaboration.
Looking at offices more generically, that sense of connection and a bespoke environment is perhaps most poignant at a micro level - the individual workstation. The advent of hot-desking can result in a de-personalisation of the office space, but studies show that employees able to style their own workstation are 30 per cent more productive than those in bare surrounds. WORKac designed DVF workstation desks as minimal elements, that could be customised as needed. These stations are oversized and allow for personal items to be displayed, fabric to be laid out or cut, and patterns to be compared. Employees dress their desks with birthday cards, framed photos, recent magazines and countless other items that tell a little bit more about who they are.
The DVF team has often found the desks themselves to be great conversation-starters among colleagues. Granted Diane Von Furstenberg is the employer as opposed to the employee, and her immediate office space is certainly at the very top-end of the bespoke spectrum. Still, it is a beacon example of personalising a workspace. There is no doubt one would get a sense of who she (and her brand) is, based on her private office. It's full of mementos, photos of family and friends, meaningful art and items of deep personal significance.
Providing choice and flexibility also makes for smart business. Companies that empower their employees to make decisions about when, where, and how they work tend to perform better and have greater job satisfaction than employees granted less choice. Office layout also has a significant role to play. For example, areas that deliver both private and social spaces mean employees can select whichever one is best for them at the time. We've all seen the sociopetal shared table eating areas and hang-out rooms that embrace the culture of the tribe. They imbibe that sense of community, and this is where you might be more likely to find an extrovert. In contrast, an introvert might be more relaxed at their work station or in the quieter, more private settings. Both, however, would probably avail of features such as enclosed phone booths, a concept that is gathering momentum in the workplace.
Choice and flexibility seem part of the DVF office DNA. How often have you frozen at your work station while someone else sat fanning themselves, or vice-versa? Indoor temperature can be a huge sticking point for workplace culture, and DVF demonstrates an innovative solution. Small heat pump air conditioners are placed in the ceiling cavity allowing temperature regulation in silo spaces, giving occupants a choice between AC or good old-fashioned window opening. At DVF there's even choice in how entire areas are configured. Thanks to pivoting walls and showroom displays that can be folded closed and used as display walls, floors can transform and be reinvented for multi-purpose uses.
Tencent headquarters in Shenzhen showcases another example of design delivering choice. Three huge bridges link two glass towers standing at 50 and 39 storeys high, the Tencent offices. The building contain an incredible array of features including a Tencent University, a climbing wall, dance studio, sports courts, museum and cafe. The system means the 10,000+ employees shouldn't go on automatic pilot to navigate their way around the building. The layout encourages employees to cross paths and have random social interactions. But this is science rather than serendipity at play. It's sometimes referred to as the 'architecture of collision' - that random encounter that perhaps was traditionally acted out on the High Street, but is now passively orchestrated in the workplace. The encounters also facilitate inherent networking, casual collaborating and idea-exchanging that keeps sparking employee stimulation, challenge and satisfaction.
Keeping employees active is high on the workplace agenda for many organisations, and design plays a crucial role.
In 2017-2018 the Australian Bureau of Statistics National Health Survey indicated that 67 per cent of Australian adults were overweight or obese. That figure was 30.9 per cent in New Zealand (albeit in 2018/19) and 28.7 per cent in England. Workplaces that offer stand-up/sit-down desks serve to keep employees literally on their feet when they want. Research has shown that when stairs are deemed to be well made and are easy enough to spot, employees are more likely to use them as opposed to the elevator or escalator.
Designing pleasant corridors for rain-or-shine-walk-and-talk meetings is another way to increase almost incidental activity (Tencent features a looping running track on one of its bridges). Even something as simple as centralising the rubbish system so that individuals are forced to get up and walk to deposit waste is a means of getting the heart rate going. Providing showering, locker and garage systems encourages an active commute to work, which then delivers physical, mental and financial benefits to the employee.
The Samsung Silicon Valley Headquarters is most certainly a place that encourages activity. Fancy some tai chi in the garden? A sporting match with some colleagues? A bit of mental time-out in a spin class? The thinking behind this office is not just about keeping employees physically healthy but mentally switched on. Based on a belief that the brain is at its cognitive best when the body is moving outdoors, Samsung is designed in part to keep its people on the go. The building encourages walking through its design. The staff cafeteria is located in a building away from the main work areas, and pairs of floors are separated by an outdoor terrace, meaning employees must move - and move outdoors - if they're to get to a lot of the places they need to go.
Studies by the US Environmental Protection Agency showed that indoor environments can exhibit pollutant levels higher than those outside. One in every nine Australians has asthma, and between 2017 - 2018, almost one in five had allergic rhinitis or hayfever. Keeping interior dust and air pollutants to a minimum are especially crucial for members of the workforce suffering from such respiratory ailments.
A 2017 Harvard Business Review study exploring how the quality of air in an office affected employees and their productivity found that breathing better air led to "significantly better decision-making performance" among participants. This regard for better quality air is demonstrated in offices like Samsung, which uses a courtyard typology to make the most of natural ventilation and daylight, and its layout means that employees are never more than one storey from some outdoor space. Alibiba's XiXi campus sees 100 per cent of work stations placed at proximity to windows that in turn, overlook green areas. A lot of the windows also open to allow fresh air. This might not seem all that meaningful until one appreciates the scale of the project; the campus is home to some 20,000+ employees.
Exciting advances are also being made in artificial office lighting, as Henrik Clausen from Fagerhult explains. Developers and manufacturers of sustainable professional lighting systems, Fagerhult's office solutions strive to replicate light informing the daily rhythm of office dwellers. This translates to communal lighting that is programmed to be low and warm in the morning (like a sunrise), more powerful and cool as the day goes on, and then ebbing back into warmer and lower tones as the day starts to end. Importantly, however, this general response can always be overridden or re-programmed, and it runs in conjunction with an individual solution that enables every employee to adjust their workspace accordingly. Fagerhult, along with university partners, is also studying how light might play a role in influencing and transitioning in and out of work' flow'; that ability to get into a zone that is highly productive, but feels like time passes effortlessly. It's about having a great day so the employee can leave work feeling energised as opposed to depleted.
It's about understanding that nothing beats nature, but we can at least try to emulate her. The DVF headquarters uses heliostat and prismatic mirrors and hanging Swarovski crystals to capture and accentuate as much natural light as possible. The heliostat mirrors track the sun, capture its light and then redirect this onto prismatic mirrors, which then reflect onto crystals. The crystals flank a truly marvellous signature internal stairway, a 'stairdelier' (a remarkable part stairway, part chandelier), which runs from the faceted glass penthouse to the ground floor. They then bounce this light throughout other areas of the interior, the final stage of a journey harnessing natural light. In addition to their role as redistributors of light, they also have a structural responsibility, bracing the stair's cables to serve as a guardrail-mesh. It's a touch that says so much about the brand behind the DVF business - making a visual masterpiece out of something that is also highly functional.
This brings us to an equally important consideration in office design, as focused as it should be on well-being and functionality, it is crucial to promote the business brand. According to the DVF team, their environment reflects the product and message for which they stand. They use the building to instil a strong sense of brand essence throughout. Art serves as a vital tool in achieving this, with much of DVF's collection on show. Diane von Furstenberg's role in the history of modern fashion and culture, her iconic name, the sources of her motivation, it's curated, it's on display, and it delivers a real sense of identity.
When it comes to office space acoustics, three areas require consideration - background noise (printers, outside sounds, mechanical equipment), sound isolation between spaces (people talking, impact sound from footfall) and an area's room acoustics. The latter is reviewed in terms of 'reverberation time', essentially how long it takes for a noise to fade and finish.
In terms of sound, the office layout is critical. Katrina Scherebnyj of premier acoustical company BKL recommends that employers seek to place departments with similar activities near one another. Where split-level spaces are involved, if possible allocate groups their own floor level (in the case of the DVF headquarters, the first floor is retail, the second floor is the showroom, the third floor is sales and fourth floor is marketing). The ideal ambient noise level within an open-plan space is typically 45dBA, which then drops to around 30dBA for meeting rooms and spaces requiring fewer disruptions. The key, however, is that the noise remains constant; white noise as opposed to punctuated with bursts of sound. It's important to note that not everyone is going to slot into 'ideal' comfortably. Psychologists would argue it's partly the sound itself, but also how we individually interpret it, that is important.
Environmental psychologist and workplace consultant Dr Nigel Oseland recently surveyed more than 2,500 respondents and found that extroverts tolerate and are more resilient to noisier environments than their introverted counterparts. Solid core doors with full-perimeter sound seals, full-height partitions and a sound-masking system all provide effective ways to enhance the acoustical environment. Soundscapes might be achieved by natural means (e.g. a running water fountain feature) or purpose-developed electronic responses (e.g. gentle music), but the recommendation is offices implement these before they are occupied, and not once employees have already been using the space. "Behavioural settings" can be used to coerce certain behaviour and therefore help manage sound in the workplace.
When it comes to some spacial contexts, we are conditioned from an early age how to respond. Our behaviour walking into a library, for example, is going to be different from our behaviour walking into a cafe. Designers call on visual tricks to try and encourage certain responses. For example, lining an area with books and making it as cosy-feeling as possible should instinctively see most users treat that space more quietly or discreetly.
The exchange between science, data and design is fluid, with combinations of one informing the other. For example, by looking at anonymised (important to note) employee data (e.g. what rooms are accessed when, what meetings are scheduled when, and other socio-metric data) workplace behavioural patterns can be identified. This 'evidence-based knowledge' can then be used, for example, to steer business towards more proactive decisions as opposed to reactive. Just because the first iteration of the project is complete shouldn't hinder further collaborations to help a business stay a step ahead and continue to, well, evolve.