19 April 2018, Orange
– Quest Apartment Hotels is continuing its expansion in regional New South Wales, with construction commencing at the development site of Quest Orange, at the corner of Kite and McNamara Street.
Being developed by Saran Engineers and Managers, the property will feature 77 apartments – a mix of studios and one, two and three-bedroom apartments. It will generate significant local job opportunities during construction, and ongoing full-time, part-time and casual employment once the property opens in June 2019.
Orange City Council Mayor Cr Reg Kidd was on site at the commencement of construction. He was joined by Jim Saran, Principle at Saran Engineers and Managers and Quest Apartment Hotels General Manager – Growth, James Shields.
"This is a very exciting development for Orange, as it expands on the accommodation options available to the increasing amount of long and short stay travellers to the city. I congratulate the proponents on recognising the key role Orange has in developing Regional NSW".
Mr Shields was delighted to announce yet another addition to the Quest's NSW network, emphasising the importance of the regional New South Wales market as a key component in the apartment hotel operator's growth strategy.
"Orange is the perfect example of Quest's promise to go to where the corporate market needs its unique style of apartment hotel accommodation. The economic growth experienced in the area has been solid with strong prospects," Mr Shields said.
"The Orange region economy is quite diverse, with major industries including, state and federal government departments, mining, and tourism. Quest Orange will provide much needed accommodation for guests doing business in the area, as well as providing a great accommodation option for leisure tourists."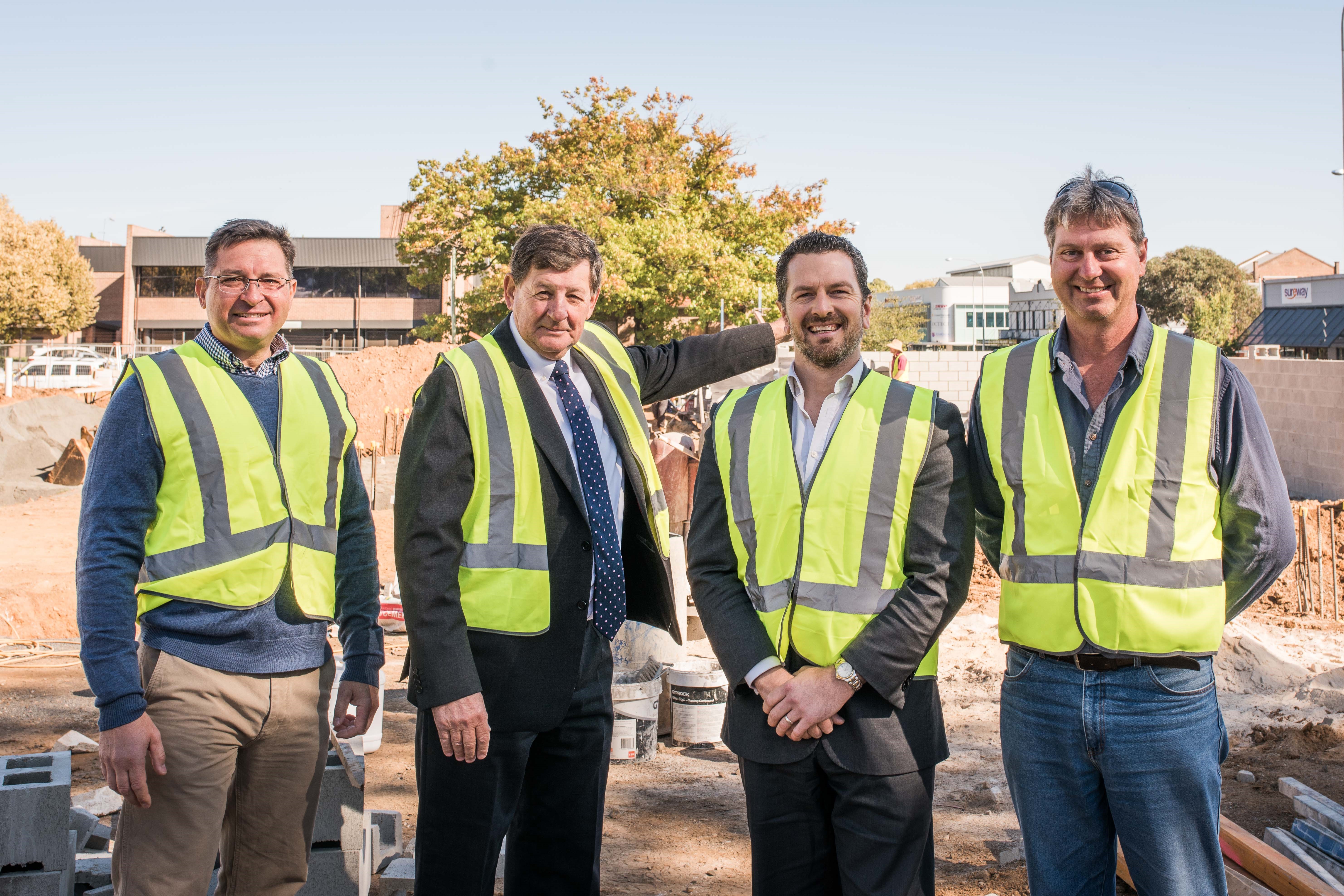 Left to right: Jim Saran (Saran Engineering), Cr Reg Kidd (Mayor Orange City Council), James Shields (General Manager Growth, Quest Apartment Hotels), Peter Archer
Located at the corner of Kite and McNamara Street, Quest Orange is expected to open in June 2019 and will feature onsite parking, a conference room and gymnasium. Situated 760km north of Melbourne and 270km west of Sydney, guests of the new property will have easy access to the neighbouring centres of Bathurst, Dubbo and Cootamundra.
Expressions of interest regarding the opportunity to become franchisee of the new Quest Orange property are still open but due to close soon. For more information go to
questfranchising.com.au
.
Quest's expansion remains extremely strong. While 2018 has already seen the opening of two new Quest properties, Quest Midland (WA) and Quest Springfield Central (QLD). Quest Orange joins a broad pipeline of 11 new Quest Apartment Hotels currently under construction, including Cannon Hill (QLD); Maribyrnong, Epping, Notting Hill, Melbourne NewQuay, Melbourne on St Kilda Road, Burwood East (VIC); South Perth Foreshore (WA) and Liverpool City Centre (England, UK).