11 May 2018
– Last night Charis Mullen MP, State Member for Jordan, joined Quest General Manager – Growth, James Shields, to officially open Quest Springfield Central at 4 Wellness Way.
Mr Shields was delighted to formally open Quest Springfield Central, adding 82 rooms to the Brisbane market.
"The opening of Quest Springfield Central, combined with the scheduled opening of Quest Cannon Hill next month, demonstrates a continuation of Quest's assertive growth strategy within the Brisbane market. Following the opening of Cannon Hill, Quest will have opened three Brisbane based properties in the last 12 months. Visitor numbers to Brisbane continue to increase year-on-year, with Tourism and Events Queensland recording 1.6 million domestic business travellers year ending December 2017.
"Opening Quest Springfield Central provides an opportunity for strong business growth, as we see the area continuing to develop. Greater Springfield is home to more than 34,000 residents. The Springfield Central development is expected to provide employment to 52,000 workers, in a CBD location comprising more than 2.6 million square metres of commercial, retail, educational, health and technology facilities," said Mr Shields.
Charis Mullen, Member for Jordan, said the opening of Quest Springfield Central was a show of real confidence in the region.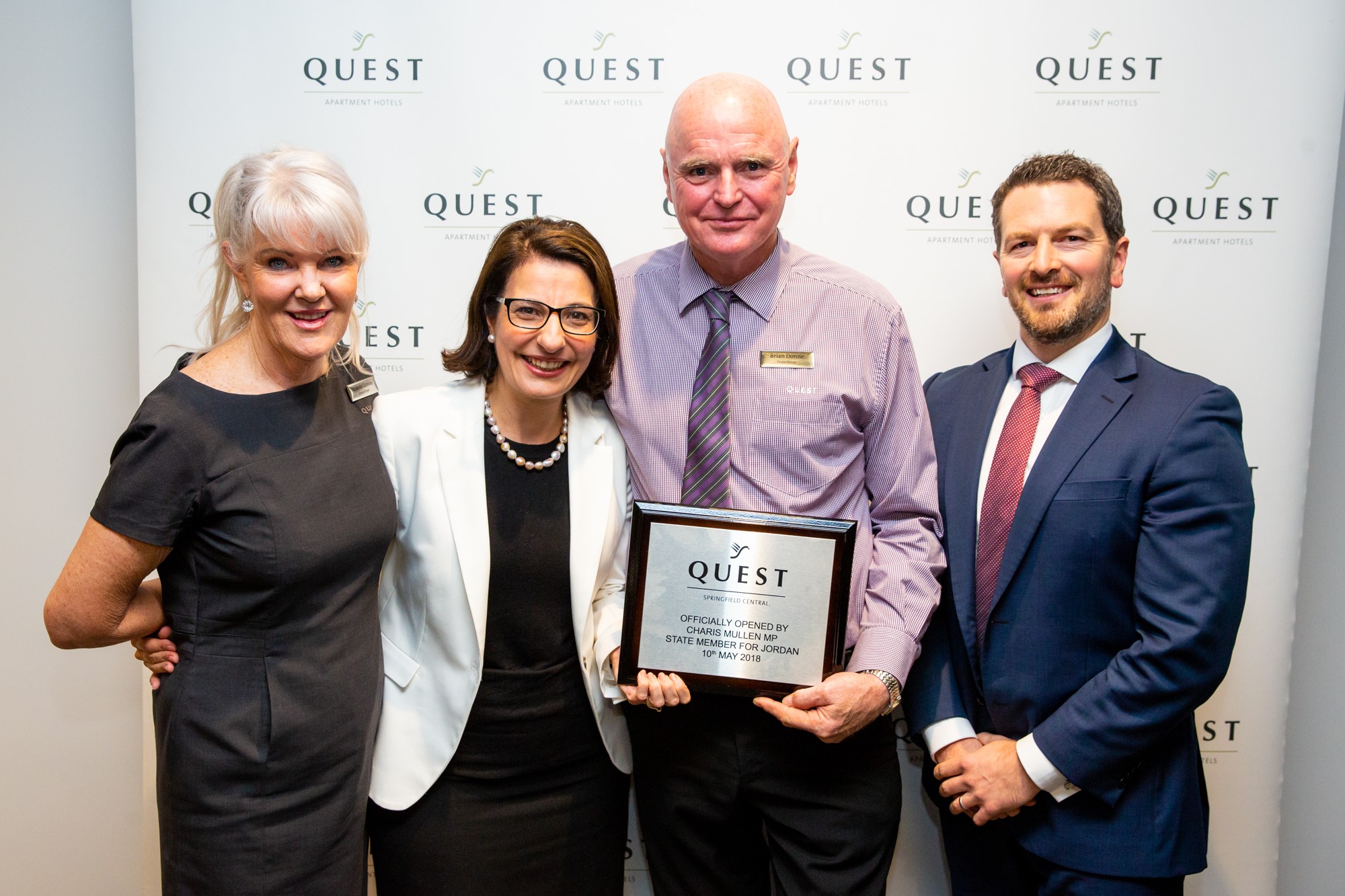 "The opening of Quest Springfield Central fills a demand for accommodation and represents a vote of confidence in Greater Springfield. It is clear a lot of thought and care has gone into the property, which will ensure it has a positive impact on the business tourism sector," said Ms Mullen.
Quest Springfield Central Franchisees, Leanne and Brian Donne, said the Health Care precinct is a hub for health and wellness, and they are pleased be supporting this through much needed corporate accommodation.
"Since opening, we have received overwhelming support from the Springfield community. It's such a privilege to share this celebration with them."
"We have already received significant demand for accommodation at Quest Springfield Central since doors opened in March. We are confident the property is going to be a successful and valuable contributor to the Quest network.
"The Quest Springfield Central team has worked tirelessly in the lead up to and since opening to make sure we meet the premium standard that guests have come to expect when staying at Quest properties," said Mrs Donne.
Quest Springfield Central features 82 apartments – a mix of studio, one and two bedroom apartments. The purpose-built property provides the perfect "home away from home" with fully-equipped kitchen, business lounge, conference facilities and on site gymnasium.
The broad pipeline of 11 new property openings over the next 18 months across Australia, and the UK, shows substantial growth for Quest. In addition to Springfield Central and Cannon Hill in Queensland, this includes properties in South Perth (WA); Maribyrnong, Epping, Notting Hill, Burwood East and NewQuay (VIC); Penrith and Orange (NSW); and Liverpool (UK).
For more information visit
www.questspringfieldcentral.com.au.