15 JULY 2019
– Director at Development Victoria, Karen Cowden joined franchisees Stacy Andronikos and Daniel Hibberd last week to officially open Quest NewQuay.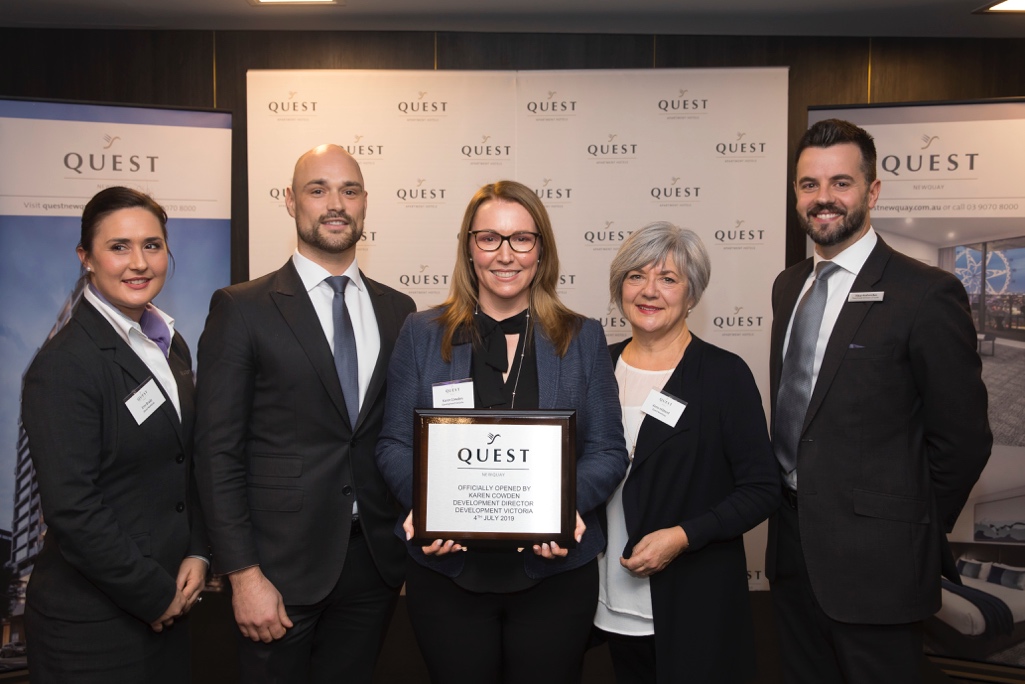 Since launching in February this year, Quest NewQuay reached full occupancy within one month of trading and maintains a strong pipeline of new business from extended and shortstay travellers. Stacy Andronikos attributes the apartment hotel's success to the strong business environment in the precinct.
"High occupancy of premium accommodation is a sign of a healthy business environment. We're thrilled to be part of NewQuay's development and want to thank MAB, Quest and Development Victoria for helping us reach this point," Stacy said.
Members of the Docklands Chamber of Commerce, Development Victoria and MAB Corporation joined the team at Quest Apartment Hotels to celebrate the launch of its largest property. Development Director at Development Victoria, Karen Cowden said that she is thrilled to welcome the team at Quest NewQuay to the Docklands.
"Development Victoria has worked with stakeholders such as MAB Corporation and Quest to deliver the Docklands precinct since the late 1990s. During this time the precinct and Docklands has changed significantly. We now have around 13,000 residents and 65,000 people working in Docklands. Not to mention the thousands of people who visit each year."
"NewQuay is a significant contributor to Docklands. It's a vibrant precinct for Melbournians to live, work and play and the new Quest NewQuay will provide visitors with another fantastic option for accommodation – one that's close to the water, the refurbished District Docklands, the Melbourne Observation Wheel, Marvel Stadium and the free tram service linking the CBD," Karen said.
Located on Caravel Lane, the property was developed in partnership with MAB Corporation and the Victorian Government to provide a premium home-away-from-home experience to visitors in the heart of Melbourne's Docklands.
Quest NewQuay features studio, one, two and three-bedroom apartments with fully equipped kitchenettes, laundry facilities and a private balcony. The property also features a business centre, conference facilities, gymnasium, secure parking and a rooftop alfresco BBQ and entertainment area.
Quest NewQuay is one of eight new properties opening across Australia, New Zealand and the UK over the next two years including Orange (NSW), Joondalup (WA), Tauranga Central (NZ), Takapuna (NZ), Hastings (NZ), Christchurch – Cambridge Street (NZ), Mt Maunganui (NZ) and Liverpool City Centre (UK).
For more information go to questnewquay.com.au