4 February 2019 – Quest Apartment Hotels reached a major milestone this week with the launch of Quest NewQuay in Melbourne's Docklands, the network's largest property.

Quest Apartment Hotels General Manager – Growth James Shields said "Quest NewQuay is the network's largest apartment hotel featuring 221 serviced apartments. Situated in the heart of Melbourne's Docklands, the property is located within walking distance of Victoria Harbour and Melbourne's CBD. We have worked closely with our development partner MAB Corporation and the Victorian Government to ensure that our guests enjoy a premium home-away from home experience in the heart of Melbourne's Docklands." Mr Shields said.

Developed by MAB Corporation, Quest NewQuay is the fourteenth tower completed by MAB, bringing the property developer's total investment in the precinct to more than $2.5 billion.

Quest Apartment Hotels Chief Commercial officer, Craig Ryan, said Quest NewQuay, our most ambitious property to date at approximately double the size of the average Quest property, is perfectly suited for professionals or families relocating to Melbourne.

"The Docklands has grown to become one of Australia's most vibrant precincts and will continue to attract families, business travellers and tourists for years to come."

"The demand for serviced-apartments in this area is growing each year and we're very proud to deliver the City of Melbourne's largest number of two- and three-bedroom apartments.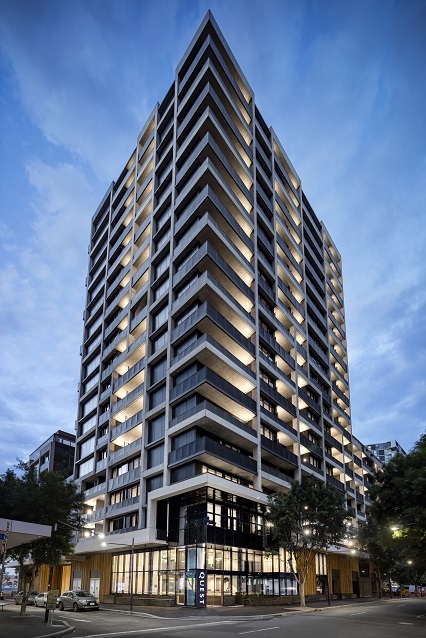 The Docklands has attracted more than $12 billion in private investment as part of its urban renewal plan. Development Victoria Group Head of Precincts, Geoff Ward, said Quest NewQuay is an asset to the precinct and a great choice for guests visiting the Docklands.

"The Docklands has now matured, evidenced by the fact that the area is home to 11,000 people and 60,000 workers. It also attracts millions of visitors each year and is home to some of Australia's largest domestic and international headquarters, so Quest NewQuay is well positioned to service visitors and corporate travellers in the area," Mr Ward said.

Quest NewQuay is the network's thirteenth property in the City of Melbourne and features studio and one, two and three-bedroom apartments, with fully-equipped kitchens, laundry facilities and a private balcony. The property also has a business centre, conference facilities, gymnasium, secure parking and a rooftop alfresco BBQ and entertainment area.

The apartment hotel is situated within walking distance of Marvel Stadium, The District Docklands and Melbourne's free tram zone. Quest NewQuay is 20 minutes from Melbourne Airport, which caters well to business travellers in need of a direct route to and from the city.

Purchased in 2016, the property is owned by Ascott-Qatar Investment Authority's joint venture.Quest NewQuay is one of 9 new property openings across Australia, New Zealand and the UK in the next two years, including St Kilda Road (VIC), South Perth Foreshore, Burwood East and Joondalup (WA); Orange; Tauranga Central, on Tuam and Mount Eden (NZ) and Liverpool (UK).

For more information visit Quest NewQuay.