6 December 2018
– Last night the Mayor of the City of Whittlesea, Cr Lawrie Cox, and AFL legend Kevin Sheedy AM joined Quest Chief Financial Officer – Jason Vanderzalm, to officially open Quest Epping, located on the corner of Cooper and Miller streets at Pacific Epping Shopping Centre.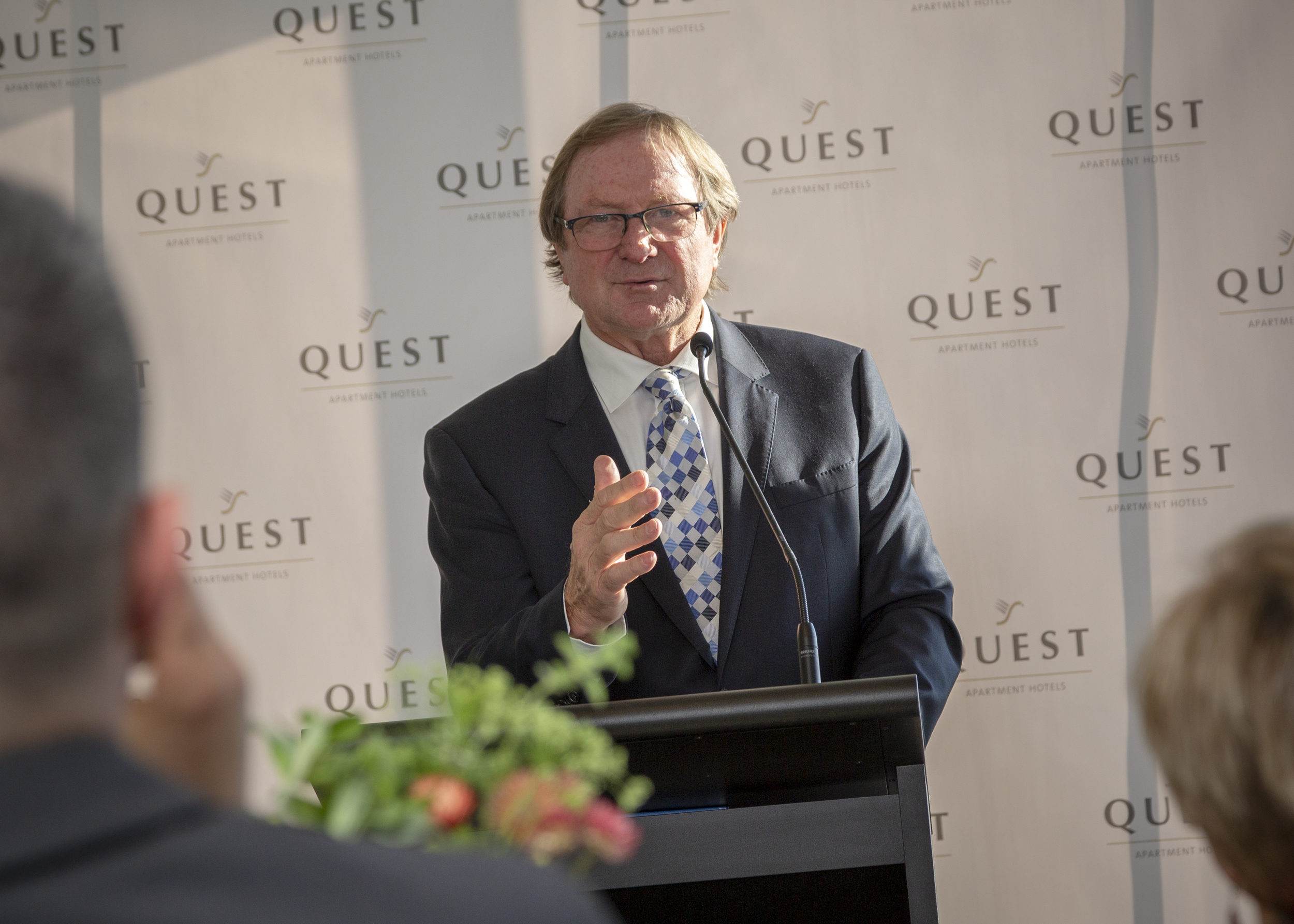 Mayor Cox said the opening of Quest Epping couldn't have come at a better time with substantial growth in the region predicted across the next quarter of a century.
"The City of Whittlesea is thriving with a projected population increase of 71 per cent across the next 25 years. This will create continued demand for housing, businesses and infrastructure, including accommodation for people travelling for work and visiting the area.
It's my pleasure to be here tonight to officially open Quest Epping and welcome you to this diverse and fast-growing municipality. It's evident from the support you have here tonight that you've already made an impact in the local community. The property looks wonderful and is great asset to the City of Whittlesea," said Cr Cox.
Mr Vanderzalm was delighted to formally open Quest Epping during this exciting period of change for the region.
"The population and business growth in Melbourne's North looks set to continue with the City of Whittlesea earmarked as one of the fastest growing council areas in Melbourne. Since 2016 there have been more than 6,750 new jobs created across a range of industries including healthcare, construction and retail. "This property benefits from being located adjacent to the Northern Hospital and in close proximity to Epping Plaza and the Melbourne Market. There is also easy access to Tullamarine Airport via
the Metropolitan Ring Road which is an asset for many of our business traveller guests," said Mr Vanderzalm.
Quest Epping franchisees Jennifer Wilson, Daniel Wilson, Ky O'Shea and Mark O'Shea, said that the property had experienced a busy few months since opening.
"It's wonderful to see so many familiar faces here at our official opening event. The past few months since we opened have been extremely busy and we couldn't have done it without the support of our wonderful staff and the local community. We are looking forward to building upon the foundation we have set in 2019 and beyond," said Ms Wilson.
Quest Epping features 96 apartments – a mix of studio, one, two and three bedroom apartments. The purpose-built property provides the perfect "home away from home" with fully-equipped kitchen, business lounge, conference facilities and on site gymnasium.
The property has been developed by The Pacific Group of Companies and is now owned by Pacific in partnership with QIC (Queensland Investment Corporation).
The broad pipeline of 11 new property openings over the next two years includes St Kilda Road, Burwood East and NewQuay (VIC); South Perth Foreshore and Joondalup (WA); Orange (NSW); Quest on Manchester, Quest Tauranga Central, Quest on Tuam and Quest Mount Eden (NZ) and Liverpool (UK).
For more information visit
Quest Epping