Melbourne, 9 May 2019 – A new study on business travellers found that the length of stay has a direct impact on the emotional wellbeing of guests.

Commissioned by Quest Apartment Hotels, the study found that business travellers regard short trips between 1-4 nights as a fling from responsibility, while trips up to 21 nights are characterised by added stress in order to keep their work and homelife ticking along.

More than 500 business travellers and 150 travel managers were surveyed to uncover trends and insights on short and extended-stay accommodation, making it one of the most comprehensive studies on Australian business travellers.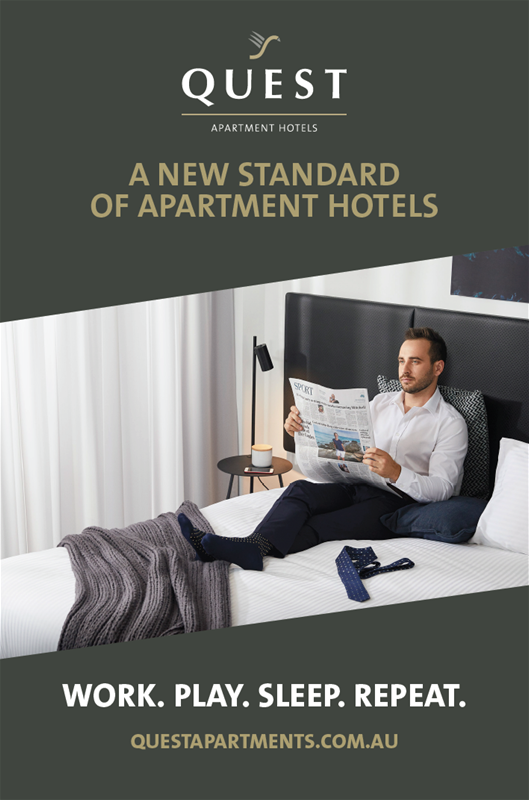 Group Director of Marketing & Digital, Jeff Baars
said the research shows that accommodation providers can enhance the business traveller experience by accounting for the duration of stay.
"The home-away-from-home experience is a term that's often used in our industry, but the research shows that the length of stay has a major influence on customer demands. Business travellers expect a seamless transition between their normal routines and business trips, but for short-term business travellers, they also want a sense of adventure.
"During trips of four nights or less the responsibilities of home life are out of sight, out of mind. Guests in this category want the things they enjoy at home like high-speed internet while enjoying local restaurants and attractions.
Meanwhile, medium and long-stay business travellers want to establish a home away from home, so they place a higher value on the ability to prepare meals themselves, create their own routines and set up their own personal nests," Jeff said.
"With these new insights, we wanted to showcase our new product offering in a campaign that speaks directly to our guests, forming the foundations of a new brand campaign titled Work. Play. Sleep Repeat – A New Standard in Apartment Hotels.
Leslie Preyer from advertising and digital marketing agency, Cyclone Creative
said the content-led campaign captures what guests want out of their accommodation while highlighting the fun and relaxing side of business travel.
"We wanted to showcase the premium nature of Quest products in a way that resonates with business travellers. The Work. Play. Sleep. Repeat. narrative made use of dynamic camera transitions to create a sense of seamlessness and rhythm," Leslie said.
The main 60-second brand video shows business travellers making use of the network's new standard of apartment hotels throughout their day.
The international campaign is driven in Australia by outdoor advertising at all major Australian airports, and through major press, digital, video advertising and social media activities.
WORK. PLAY. SLEEP. REPEAT.
Visit www.questapartments.com.au/workplaysleeprepeat to see how Quest Apartment Hotels is delivering a new standard of apartment hotels