24 October 2017, Innaloo
– Today Quest Apartment Hotels opened Quest Innaloo at 1 Sunray Drive, increasing Quest's offering in Perth by 80 rooms. The brand new premium apartment hotel comes as part of the Stirling Cross development, a mixed-use project with 154 residential and 80 serviced apartments.
Stirling Cross is located at the very heart of the fastest-growing economic hub in WA, minutes from Perth CBD, moments from Leederville's café strip and just a short walk to major shopping centre Westfield Innaloo, making the property the ideal location for the corporate traveller.
Quest Chief Executive Officer, Zed Sanjana is confident about the future of tourism in WA, with the year ending June 2017 seeing more than 10.4 million overnight domestic and international visitors. "Growing our base in Western Australia is a key priority for Quest with two more properties in the pipeline for the next year – Quest Midland and Quest South Perth Foreshore."
"Stirling is on a solid growth trajectory, in terms of becoming a business centre for surrounding suburbs and Perth more broadly. The WA State Government has already re-located part of its Perth City workforce to the new inner North to aid with the major economic and social development in the area," said Mr Sanjana.
"We are pleased to be opening Quest Innaloo today. The quality of the property is of the highest standard and the team are looking forward to delivering the best service to ensure each guest has the premium experience they expect from a Quest Apartment Hotel.
"Current development and activity within Stirling demonstrates a bright future for the new property. The addition of these apartments is an asset to the region, and will help provide much-needed accommodation for guests doing business in the area, as well as providing a great accommodation option for leisure tourists," Mr Sanjana said.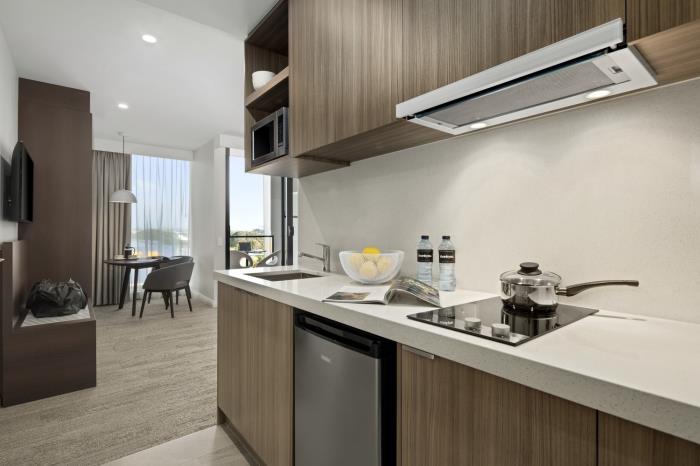 Developed by Fini Group, Quest Innaloo features 80 apartments – a mix of studio, one and two bedroom apartments. The purpose-built property provides the perfect "home away from home" with fully-equipped kitchen, business lounge and on site gymnasium.
Quest Apartment Hotels has opened seven new properties within the past 12 months including: Quest East Perth, Quest Fremantle (WA), Quest Griffith, Quest Macquarie Park, Quest Newcastle West (NSW), Quest Port Adelaide (SA) and Quest Dandenong Central (VIC).