Quest Apartment Hotels has appointed franchise business owners for Quest Wangaratta and Quest Ballarat Station.

Brendan Du Kamp, existing franchisee of Quest Echuca, has taken ownership of Quest Ballarat Station, while Quest Wangaratta will be led by Oscar Zevallos-Riveros, former employee of Quest Melbourne Airport.
The two new properties opened in the fourth quarter of 2020, with Quest operating the businesses under its pre-franchising model, establishing strong foundations for franchisees to build upon.
Quest's general manager of franchise operations, David Ridgeway, said engaging the best candidates is essential to the Quest brand and guest experience.
"We are pleased to be awarding franchising opportunities to two incredibly deserving members of our network, both of whom have worked their way up from property managers to become franchise owners.
"Brendan and Oscar have a great appreciation for the Quest brand and journey we are on, as we collectively focus on creating effortless and memorable experiences for guests".
Brendan Du Kamp has been awarded the Quest Ballarat Station franchise, expanding his existing portfolio after the purchase of Quest Echuca in 2019.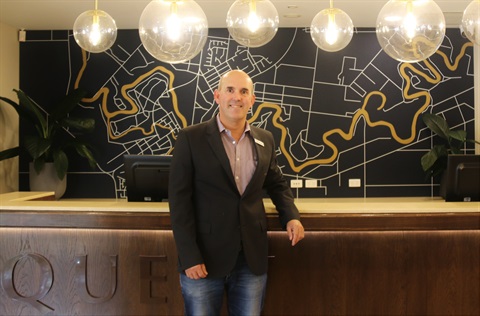 (Brendan Du Kamp at Quest Echuca. Image credit: Riverine Herald)
"I've been part of the hotels sector for over 20 years, and part of the Quest family for 10", said Brendan.
"It's been a privilege to grow with the brand over the past decade, starting out as a general manager before stepping in as franchisee at Geelong, then Echuca and now Ballarat Station".
Quest Ballarat Station is the anchor tenant of the new Goods Shed precinct. The commercial hub will include a conference and events centre, retail and dining offerings when complete in late 2021, with hospitality company The Atlantic Group announced as a major partner and operator.
"Following a busy year with the refurbishment of Quest Echuca, I'm excited to jump straight into the next opportunity to operate Quest Ballarat Station and play a part in bringing The Goods Shed precinct to life, which will be a sensational offering for local people and tourists alike, and something truly unique", said Brendan.
Mr Ridgeway commended Brendan on his consistent commitment to excellence which has earned him this next opportunity.
"Brendan is a consummate professional and consistently strives for excellence, and just this year was named one of four Quest Franchise of the Year winners in recognition of his efforts", he said.
"Brendan has a knack for tapping into the character of the local area and building relationships, so we trust he will do a sensational job as franchisee of Quest Ballarat Station and have a positive impact on the local tourism industry and community also."
Meanwhile, Oscar Zevallos-Riveros will assume the role of General Manager at Quest Wangaratta, making his first foray into franchise ownership under a joint venture with the support of five experienced Quest franchisees.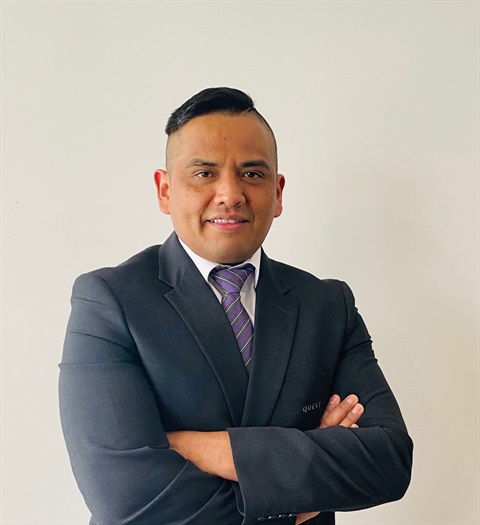 (Oscar Zevallos-Riveros)
"When my family first arrived in Australia, one of my first jobs was at Quest," said Oscar.
"I'm extremely passionate about the accommodation industry and the Quest brand, so I'm delighted to be coming on as franchisee at Quest Wangaratta and becoming a valuable contributor to the great city Wangaratta is".
Quest Wangaratta has filled a gap in the local accommodation market, offering guests premium accommodation in the city centre, which supports a vibrant calendar of local events year-round.
David Ridgeway said the Quest team were delighted to work with Oscar on the opportunity.
"Oscar brings a wealth of experience to the role as franchise owner of Quest Wangaratta, so we're confident the business will thrive under his leadership", said David.
"Oscar and his young family will make Wangaratta home, getting to know the local area and all that it has to offer over the coming months and sharing that with guests, which is core to the Quest brand and typifies the type of enriching local experience we seek to offer our guests".
"As longstanding members of the accommodation industry, Brendan and Oscar both understand what it takes to succeed, and we congratulate them both on this next step in their careers as Quest business owners".
-ends-
FOR MORE INFORMATION PLEASE CONTACT:
Madeleine Maher
Marketing & Communications Manager
Quest Apartment Hotels
Mob: 0439 002 693
Email: mmaher@questapartments.com.au