20 November 2018
– Quest Apartment Hotels and Goodman Group have partnered on their third joint project with doors officially opening at Quest Notting Hill in Melbourne.
Located in the Ferntree Business Park at 5 Acacia Place, Quest Notting Hill is in the heart of the Monash National Employment and Innovation Cluster. The new apartments are in the centre of Melbourne's high-tech community and Monash University, just 21km south east of Melbourne's CBD. Ferntree Business Park is already home to several multinational tenancies including Olympus, Schneider Electric, DePuy Synthes and Dräger, attracting an increasing number of business travellers to the area.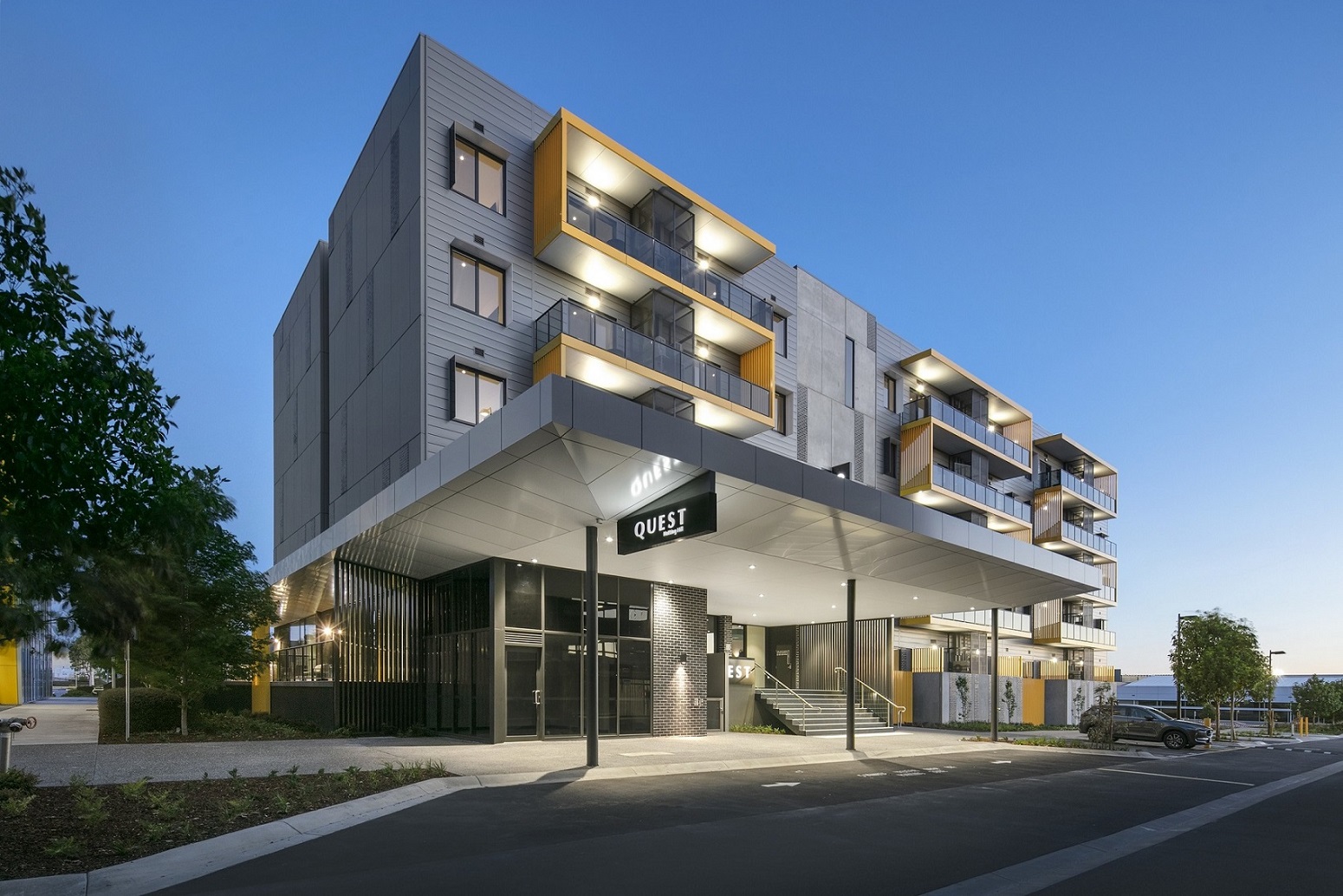 Quest Apartment Hotels General Manager – Growth, James Shields
explained that the partnership with Goodman Group was a win-win for both companies who have worked together in the past on projects in emerging business centres.
"We've partnered with Goodman Group on three properties including Quest Macquarie Park in Sydney, Highbrook Business Park in Auckland and this project in the Ferntree Business Park provided the perfect location to join forces and work together again. The precinct currently supports 75,000 jobs across several industries and contributes more than $9.4 billion to the Victorian economy each year, making it an ideal location for Quest's unique offering. We look forward to continuing our partnership with Goodman Group." said Mr Shields.
The Monash National Employment and Innovation Cluster has Melbourne's largest concentration of businesses outside the CBD and is well positioned to bring jobs closer to where people live.
Quest Notting Hill franchisees Mr Gatt and Paul Goldsmith
have been part of the Quest network for a number of years and look forward to hosting the growing number of business travellers and corporate guests in the region.
"We are confident our property will be a valuable addition to the Quest Melbourne property portfolio, having already received tremendous interest and support from the thriving local business community," said Mr Gatt.
"The Quest Notting Hill business will not only generate ongoing jobs for the local community but also help address the shortage of quality accommodation in the Monash region, especially for business travellers."
Quest Notting Hill provides 100 apartment style hotel rooms including studio, one, two and three bedroom apartments. Each studio apartment features a kitchenette, making them a perfect alternative to a hotel room. The one, two and three bedroom apartments come with a full-size kitchen and laundry facilities, ideal for families, colleagues or larger groups looking for a home away from home. Quest Notting Hill also features conference rooms, a business lounge, gymnasium and an outdoor terrace with barbeque area.
Following on from the opening of Quest Notting Hill there are 12 new property openings scheduled over the next two years across Australia, New Zealand and the UK. Locations include St Kilda Road, Burwood East and NewQuay (VIC); Canberra City Walk (ACT); South Perth Foreshore and Joondalup (WA); Orange (NSW); Quest on Manchester, Quest Tauranga Central, Quest on Tuam and Quest Mount Eden (NZ) and Liverpool (UK).
For more information visit
Quest Notting Hill.