Top honours for Quest Apartments' best and brightest
29 November 2017 – Quest Apartment Hotels recognised its outstanding properties and staff members at the company's annual gala dinner in Melbourne.

The highly-prized Chairman's Award was presented to Quest Wodonga Business Development Manager Amy van de Ven, who was selected from a network of staff representing 150 Quest franchises across Australia, New Zealand and Fiji. The Chairman's Award is a prestigious and highly-esteemed award, with many previous recipients having progressed to Quest franchise business ownership.

Quest Apartment Hotels Chairman Paul Constantinou said the award specifically recognised Ms van de Ven's commitment to the brand.

"Ms van de Ven's dedicated and tireless service to Quest, and the Wodonga community, is an outstanding example to her colleagues. Her willingness to consistently go above and beyond the call of duty and achieve her personal best is second to none. She is an extremely worthy recipient of this award." Mr Constantinou said.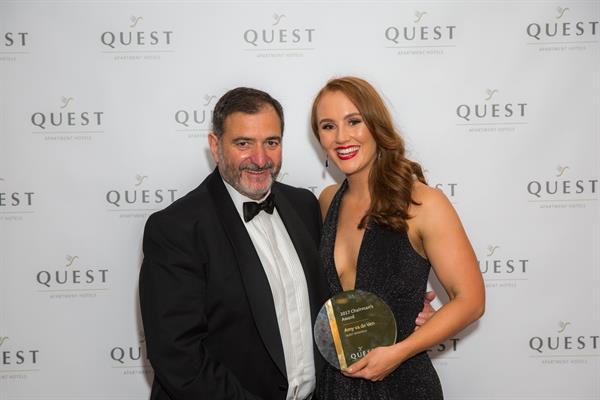 It was a double win for Quest Ivanhoe, which was named National Franchise of the Year and Regional Franchise of the Year for VIC/TAS.

The national and regional franchise awards recognise superior guest service standards, business performance, and the franchise's excellent demonstration of company values across the Quest network.

Quest Chairman, Paul Constantinou, said the award specifically recognised franchisees' Nick Michael and Andrew Scott's professionalism and commitment to running a successful and profitable business.

"Quest Ivanhoe continues to deliver the premium home-away-from-home experience expected by our valued guests, a reputation Quest has established over 29 years of operation. I congratulate Andrew, Nick and the team at Quest Ivanhoe for their hard work and dedication," Mr Constantinou said.
Other award recipients included:
Hall of Fame inductee: Quest Breakfast Creek and Quest Toowoomba franchisees Jenny and Tony O'Reilly.
Most Outstanding Business Improvement: Quest Breakfast Creek and Quest Toowoomba franchisees Jenny
and Tony O'Reilly.
Employee of the Year Front of House: Quest Geelong service agent Brooke Hill
Employee of the Year Back of House: Quest Yelverton Kalgoorlie Housekeeping Team Leader Penny Hunter
Employee of the Year Business Development Executive: Quest St Leonards Development Executive Pritema
Rio-Singh
NSW/ACT Regional Franchise of the Year: Quest St Leonards
WA/SA Regional Franchise of the Year: Quest Yelverton Kalgoorlie
QLD/NT Regional Franchise of the Year: Quest Ipswich
-ends-

For more information, contact:

Billy Daniels / Lahra Carey Media & Communications
03 9685 3194 / 0411 708 124
billy@lahracarey.com.au