This Indigenous Business Month, we're shining a spotlight on Cora Peltherre Lynch, the Perth-based First Nations artist behind Ngwarle Untye Art. Quest recently partnered with Cora on a gift designed for attendees of our annual conference. Here she shares her inspirations, passions and goals.
There's a story behind the work that is printed on the gift attendees took home from our recent conference. Can you share it?
It was one of the first pieces I created. I wanted to tell a story about Indigenous culture being diverse and multicultural prior to colonisation. A lot of the conversations I've had with people who travel, who are unfamiliar with Australia, is that they have this idea that Aboriginal people are just one mob; they don't fully understand the idea that Australia was already a multicultural society with different nations, different cultures, different languages. I try to explain that through my painting, which is called We Are Many. It's why we have the ceremony of Welcome to Country, because nations were travelling out of their communities into other nations, and within those nations you had your own laws, your own kinship and your own culture. So, you had to acknowledge Country and get permission to come onto other people's Country.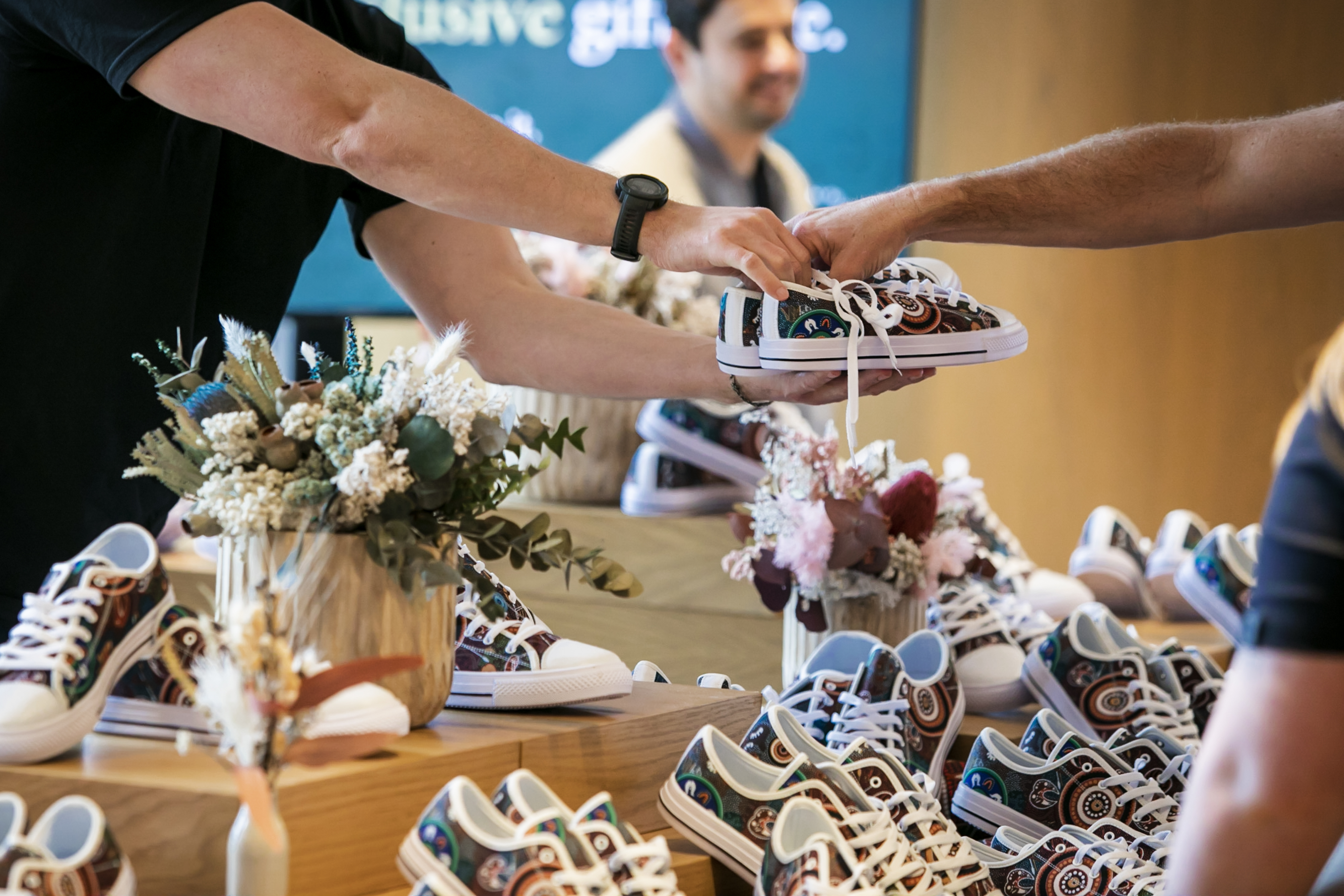 And can you tell us about where you are from?
I come from a small, remote community – Mpwerrnge Anarpipe, also known as Black Tank community. I was born and raised in Alice Springs in Central Australia, and pretty much lived there my whole life, travelling between town and remote communities. I'm Arrernte, Alyawarre and Anmatjere on my father's side, and Anangu-Yankunytjatjara from APY lands in South Australia on my mother's side.
How long have you been painting for?
For around 11 years I worked in the public service. After that, I started my journey working in the construction and mining industry. In 2016, I became pregnant and had my daughter. I didn't want to return to mining, especially working FIFO. I wanted to be with my daughter. So I thought, "How can I be with my little one and earn an income that's going to support us?" And I re-sparked my passion for art. Culturally, it's always been a part of me, even though I've had other journeys through life; it's something that I've always done, but I never actually looked at it from the perspective of earning a living. I started off with $150, and I bought some paints and canvas. I managed to sell one painting and was able to buy more supplies, and create more of my own work.
How do you feel when you are creating your work?
It depends on what kind of art I'm doing. When it's my traditional art, it's me connecting to Country, it's me connecting to who I am. I'm very passionate about my traditional art and keeping culture strong. It's those stories of knowledge that I'm passing down. And it's a spiritual journey. Even though I'm miles away from Alice, living in WA, I'm still strongly connected to Country and to my Elders. Sometimes when I paint, I can imagine sitting down and listening to them speak and hearing the songs. I could paint for a whole week, not go anywhere or do anything and just be into that artwork. And when I'm doing more contemporary artworks, it's an opportunity for me to forget about the world, just be creative and do something that brings me joy and makes me feel happy. My artwork is an outlet for me and something that keeps me balanced and grounded.
What are you looking forward to in your career?
My initial goal was to create a piece to enter into the Telstra Awards [Telstra National Aboriginal and Torres Strait Islander Art Awards]. It took me a while to enter my first piece but I did in 2021. That was one of the stepping stones towards hopefully becoming a finalist. Who knows, I could win one day.