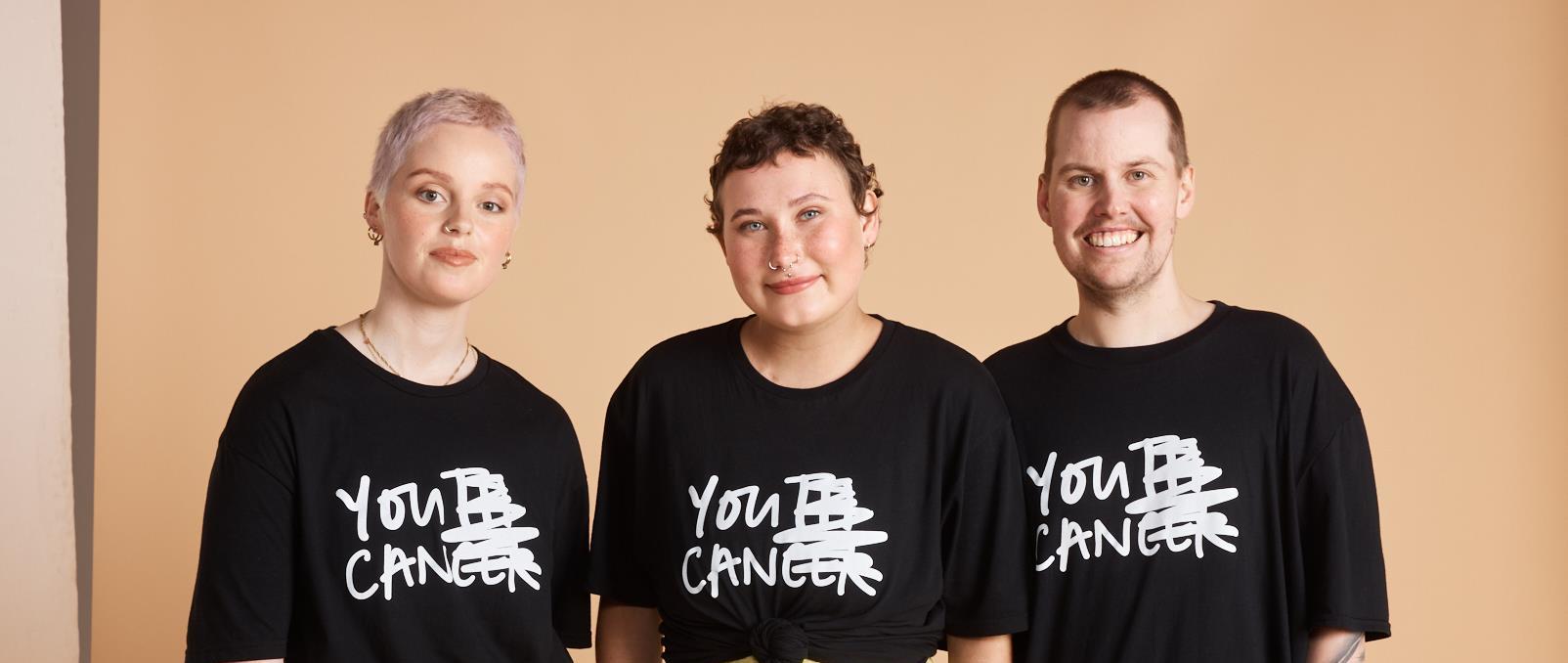 Tess, Amber and Ryan are part of the You Can Stay program.
Ryan Frazer vividly recalls the day his whole world changed. "I remember making nachos, watching the basketball; I actually was grating the cheese on the nachos. And then I got a private call on my mobile, so I thought, 'I'd better answer that.'"
When he did, it was a doctor on the other end of the line. "He said 'We found a mass in your brain. Go pack a bag and get to this location as soon as possible.'" For Ryan, now 24, that call was the beginning of a journey he's been on for six years, battling cancer.
Ryan is just one of the 1200 young people aged 15-25 who are diagnosed with cancer each year. And, like Ryan, who lives in Koo Wee Rup, a little over an hour outside of Melbourne, one-third of these youth cancer patients call regional or rural Australia home and need to travel to our cities for treatment.
It's a burden that Sony Foundation set out to address with the launch of its You Can Stay program in 2020, 10 years after founding national youth cancer initiative You Can, which has established five specialised youth cancer centres in hospitals around Australia.
"You Can Stay is the next phase of the You Can program," says Sophie Ryan, CEO of
Sony Foundation
. "We started looking at what happens to young people from the regions, from the bush, that get diagnosed with cancer. Because of the complexity of cancers that are often diagnosed in this age group, they cannot be treated closer to home if they don't live near a specialist centre. We spoke to many families and organisations in this space to understand what is the biggest challenge for people that had to travel for treatment. And, the resounding response was accommodation, the cost of traveling to a city."
The You Can Stay program provides regional and rural youth cancer patients an apartment to stay in with their families or carers, at no cost and for as long, or as many times, as needed while accessing treatment.
Since the program was announced, Sony Foundation has funded more than 13000 nights, with Quest Apartment Hotels the accommodation partner around Australia. "We were committed to finding a partner to bring about a solution and we looked really carefully around the most cost-effective model, because every dollar that we spend on our programs has been raised through the foundation's work," says Sophie. "Quest came forward as an accommodation partner that was willing to rally their national network of franchisees and provide a capped charity rate. And, importantly, with Quest we knew that they would look after these patients as if they were their own family."
"It's part of the Quest DNA," says Anthea Dimitrakopoulos, General Manager of Brand and ESG (Environmental, Social and Governance) of The Ascott Limited, Australia (of which Quest Apartment Hotels is a member). "We are really about looking after our communities. And when we announced our partnership with the You Can Stay program, our franchisees overwhelmingly supported it – in particular, the franchisees who have properties right next to hospitals."
David Mansfield, Managing Director of The Ascott Limited, Australia, says "It's tremendous how Sony Foundation has forged ahead with this and we're very honoured to be partnering with them. The entire team and I are passionate about ensuring that this need is addressed."
"I was lucky enough to be the first Victorian to have access to apartments through Sony Foundation" says Ryan Frazer. "They do a wonderful job of giving accommodation to young people who are sick and come from a distance. The team at Quest is amazing. They're like another family to me, very welcoming. They see me [and] they're like, "Oh, hey Ryan, how you going?"
Stacy Andronikos, business owner at Melbourne's Quest NewQuay, is just one of the franchisees who have chosen to get involved. "Being a part of the You Can Stay program was a no-brainer for me. I looked at it and said, 'These are young people who are being diagnosed with cancer who need to come to Melbourne. I've got the rooms to give them. Let's get to know these families and support them all we can.'" Since participating, Stacy Andronikos has come to value what he draws from the program. "What I love about it is the relationships; getting to know these families, getting to know what they do back home, their hobbies, their interests, what gives them positivity and what gives them hope going forward. [I'm building] some really solid relationships that I'll have forever." Stacy, who has accommodated Ryan Frazer on a number of occasions, has also started sponsoring Ryan's podcast, The Sparry Boys. "I'm mates with him now and we share a common interest in basketball, so we talk about that. He's a nice bloke," says Stacy.
For Angela Clarke, business owner of West Perth's Quest on Rheola, being involved in the program is "a real priority. If we can come into their lives and play this small part in being able to assist – as long as we're doing that, we will continue to support in any way we can."
"We were accommodated for over a year," says Beth King, whose 18-year-old daughter, Amber Ferguson, was diagnosed with leukemia in June 2021. Living in Port Fairy, four hours out of Melbourne, meant staying in the city for Amber's treatment was essential. "The You Can Stay program was an absolute lifeline for us, being from the country," says Beth. "Our Quest apartment was a home away from home. It gave us enough to have fuel in the tank to get through the next phase of treatment."
"It was our safe place," says Amber. "And it means the world to me that I had that."